Potato Pancakes AKA Latkes

What's in this issue?
-December Recipes
-Holiday Locavore Cooking Class
-Winter's Gold — Butternut
-Local Food News
December Recipe (links in

green

)

Butternut Risotto Two Ways, Potato Latkes, Connie's Apple Coffee Cake and tons of butternut squash ideas in the article Winter's Gold, which is below.

Holiday Locavore Cooking Class in NYC

(link in green)



Sign up now, as it's almost full! I look forward to teaching you the secrets of great cooking for the holidays, the locavore way: using open, flexible recipes to make dishes with the best seasonal food available. This class also covers how to find fabulous farm-fresh foods wherever you live. Maine Shrimp Dumplings; Warm Greens with Chèvre Croûtons; Thyme-Roasted Shiitake Mushrooms with Balsamic Syrup; The Best Russian Beef Ragout with Winter Roots; Local Apple Galette; Cranberry Apple Kuchen; and Dark Chocolate Truffles with Local Cream and Butter.
Important Food News  (links in

green

)

Marion Nestle's December 5th Food Politics blog covers Michelle Obama's Let's Move Campaign. Has she given up up on healthy diets for kids? If so, might this have to do with lobbying pressures?  And that ain't all for food system insanity, a push back against the "good food" movement gains momentum and Lobbying classifies pizza as a vegetable. Meanwhile, agriculture is under direct attack through hydrofracking. Learn more. And if you are a culinary professional visit this: Chefs join fight against fracking.

Here are a few things you can do — Sign up for the National Sustainable Agriculture Coalition Action Alerts.  Check out theAmerican Farmland Trust's Action Center.

Winter's Gold — Cooking with Butternut Squash, no recipes needed

I came late to winter squash. But like all new converts, I'm a zealot, especially about butternut, which is winter's gold — endlessly versatile, packed with good flavor and nutrition. In my household, it's a seasonal staple for soups, stews and more.
Butternut is widely available right now, from fall harvest until early spring. It keeps well at cool temperatures and, unlike most vegetables, actually improves over time as its moisture evaporates concentrating its sugars.
Inexpensive and easy to spot, butternut is shaped like an elongated pear with beige skin and orange flesh. For the best buttternut — and to support your regional farmers — be sure to ferret out fresh locally grown crop, rather than whole or cut and plastic-sealed squash from afar. That shouldn't be tough; I'm thrilled to see the surge in winter farmers markets and CSAs, where butternut abounds. And, sometimes supermarkets stock regional butternut as well. (Just be sure check the label or ask where it comes from.)  it's impressive to grow, but bear in mind that it takes up lots of space in an urban garden!
I'm dazzled by butternut's culinary possibilities. And by following simple techniques and flavoring suggestions, you're ready to cook it up numerous ways with and without recipes.
Let's begin. I especially enjoy roasting it whole to avoid peeling and cutting, then scooping out its aromatic orange flesh to cook into a variety of dishes, including the soup here. Just puree it in a food processor or mash before using. It's fabulous simply mashed like potatoes, with butter and a touch of ginger, cayenne or cinnamon or as a vegetarian pate, blended with plenty of butter and a touch of fresh sage.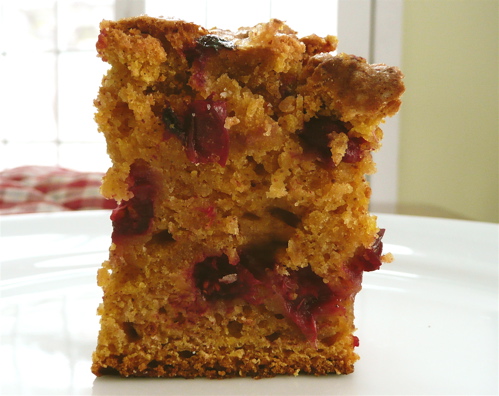 Pureed butternut is also the locavore's substitute for canned pumpkin puree in baked dishes.. Adapt any pumpkin recipe using the puree. My two favorites are Butternut -Cranberry Squares, pictured above,and Squash Pie with Ginger Snap Crust. (Butternut may vary in texture, so if your puree is not thick, just drain a bit in a colander before using, or use the necks, which yield a thicker puree.)
Cubed butternut is just as versatile as roasted puree. To cube: peel and half or quarter the squash, preferably with a large shape knife, and scrape out the seeds and fibrous innards using a spoon. Voila, you're ready to dice the butternut into long strips and then across them into cubes.
I also like cheering up chili or stew with bright orange butternut cubes. Just drop them in to simmer until soft but not mushy. Or stir little cubes into a half cooked risotto, then finish it up. (I like regional shiitake mushrooms and leeks in this too.)
Or roast cubes by tossing them lightly with olive oil with a touch of cayenne pepper and minced garlic, adding herbs or onion if you like. Roast them in a single layer, either solo or with winter vegetables, at 400 degrees until cooked through.
And there's sweetened squash— an American classic. While working on a farm to school project, I found that kids had no trouble eating their vegetables with this sweet butternut recipe. Just toss local butternut cubes in melted butter, maple syrup and pumpkin pie spices to coat, and roasted them as above. What a hit!
For a nutty snack or garnish you don't want to forget butternut's seeds. After scraping them out, make sure to remove any squash fiber from the seeds. Rinse and dry them, then roast in a skillet, dry or with a touch of oil, stirring occasionally until crunchy, then add salt to taste.
After feasting on summer and fall bounty, Mother Nature sent us a bonus  — butternut — something to look forward to.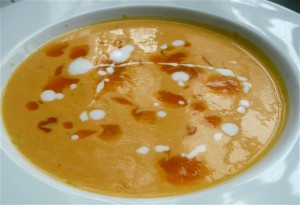 Tropical Butternut Squash Soup (above)
 Came across a butternut squash soup recipe with pears and Stilton that I'm going to try it with local butternut, storage pears and blue cheese.  Looks like it might be tasty!