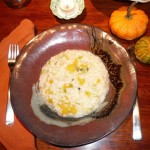 Last night I made a warming, not-too-rich risotto with fall crops, butternut squash and leeks. Season with a choice of either light Asian flavors, with a gentle touch of fire to spar with sweet squash, or with cheese and aromatic sage or green peppercorns. I liked it both ways and so did my guests.
1-1/4 cups chopped leeks, whites and tender greens
2 tablespoons sweet butter
2 cups arborio or sushi rice
1/3 dry sherry, l/2 cup dry vermouth or white wine
2 cloves minced garlic
2 cups diced butternut squash (small dice)
about 7-8 cups chicken or vegetable stock, homemade if possible
Kosher salt and pepper to taste
Choose one way to season it:
About 1 teaspoon fresh chopped sage or 20 dried green peppercorns
3 tablespoons grated Parmesan or any hard local cheese
Freshly ground black pepper, to taste
or
1 teaspoon grated ginger, or to taste
Freshly ground or crushed Schwehan peppercorns (or black pepper), to taste
Wonderful Variation: Along with the leeks, add handful of shiitake or any local mushroom caps, sliced.
1-Cook the leeks in the butter, in a medium pot, over medium-low heat, stirring frequently, until transparent but not brown, about 3 minutes.  Add the rice, sherry, vermouth or white wine, garlic and butternut squash. Stir frequently, until all the liquid is evaporated, about 1-2 minutes.
2.  Choose one of the ways to season the risotto.  For the first, add the dried sage or dried peppercorns now. For the second, add the ginger now.
3. Add the broth 1 cup at a time, stirring frequently, until the rice absorbs the broth before each new addition, about 2-3 minutes each. (The risotto should bubble by the edges, but not boil rapidly, so adjust heat as you see fit.)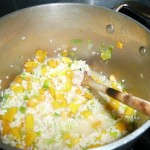 4. Finish the risotto and adjust as needed. It is done when it is creamy, but the rice is still just a touch firm and the texture is like a thick, creamy stew, about 20 minutes or so. When done, you can add stock as you see fit, as some people like it thicker or thinner.
5. Finish by adjusting the seasonings. Taste: Add extra ginger or sage, if you used them and feel it's necessary. . Stir in the cheese, if you are using it.  Finally, salt and pepper to taste and serve immediately in warm bowls.