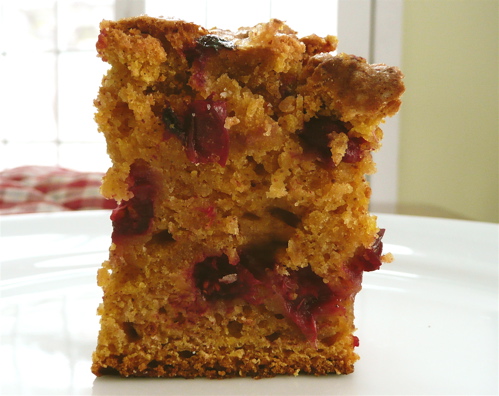 Moist, sweet and laced with tart cranberries, these staved off my winter blues by perfuming the house with their spices. They're a relative of pumpkin bread, but with the locavore edge — local butternut, eggs, butter, apple and regional cranberries — all widely available during the cold months. (I even threw in some local whole wheat flour from my grain CSA!) Savor these for a rustic dessert, buffet brunch, after school treat or book group fare with tea.
Note: Don't be put off by roasting the squash, but if it seems daunting, see the "Tips on Butternut" below.
Makes 1 8 X 8 inch square.

1 2 pound (or more) butternut squash
2 cups sugar
1/2 cup melted butter (or vegetable oil)
3 large eggs
2 cups all purpose flour
1 cup whole wheat flour
1 teaspoon cinnamon, ginger and allspice
(OR 1 tablespoon pumpkin pie spice)
1 teaspoon baking soda
1/2 teaspoon baking powder
1/2 teaspoon salt
1 apple, unpeeled, chopped
1-1/2 cups cranberries, fresh or frozen
1. Preheat oven to 350 degrees. Roast the whole unpeeled squash on a baking sheet until quite soft, 45 to 1 an hour.  Slit lengthwise; remove seeds, stringy bits, and skin, then discard. You can save the seeds, if you like. Just rinse, dry and toast in a dry pan until crispy. Serve salted. Puree the orange flesh in a food processor. (If you cooked a larger squash, measure out 2 cups for the recipe and enjoy the rest for dinner.)
2. Mix the sugar and butter in a large bowl. Add the squash and eggs, stirring well until thoroughly combined. Reserve.
3. Whisk together the flours, spices, baking soda, baking powder and salt in another bowl.
4. Add the dry mixture to the wet squash mixture and stir JUST until thoroughly combined. Mix in the apples and cranberries very briefly just to combine. (You can chop the apple in the food processor, if you like.)
5. Pour the batter into a lightly oiled and floured 8 X 8  baking pan. Sprinkle the top with sugar. Bake until a thin knife or skewer inserted into the middle comes out clean,  1 hour to 1 hour 15 minutes. Remove from pan, cool, then cut into squares to serve.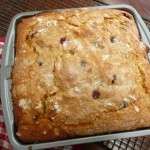 Tips on Butternut Squash:
For this recipe, you'll roast the butternut whole, which I much prefer to peeling it, both for its flavor and ease of preparation. But it can take up to 1 hour to cook. So, if you're short on time, roast it the day before. (If you can't, peel, seed and steam it, then  puree to make 2 cups.)
The truth is, I'm always looking for good things to do with roasted butternut. It's a staple that I like to keep around, a winter schmoo that's a tasty for soups or a seasoned side. My favorite is Easy Orange Mashers: Just mix the warm pureed flesh with a seasonings to taste: a touch of cayenne, salt, butter and ginger juice, made by generously grating unpeeled fresh ginger, then squeezing it through your hands or a cheesecloth.
So, while you're roasting the butternut for this recipe,why not throw a buddy squash in the oven to serve later in the week?
School Lunch Anyone?
I first made a variation of this recipe for a gaggle of school lunch ladies, while demonstrating how to insinuate farm foods into their winter menus. They were dubious, but gobbled the results, as did the kids. Now, it's served to students across the state, the only dessert in my Farm to School Cookbook, which is free on-line and pushes farm purchases of local produce. A tiny but tasty step forward.