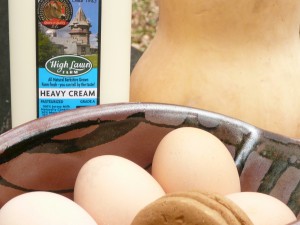 Pumpkin pie has become a generic holiday dessert, a blah crust that offers nothing to its slightly gelatinous canned filling. So here's an alternative, a family favorite that's a welcome twist on the classic. Fresh roasted butternut squash is spun into a pudding-like filling with local cream and eggs, then housed is a crunchy ginger snap crust.  Makes one pie
Pie Crust
about 10 ounces of gingersnaps
6 tablespoons unsalted butter, melted
2 tablespoons sugar
Filling
1 2-1/2 or 3 lb or so butternut squash (2 cups puree or 1 pound)
2 extra large eggs, beaten until frothy
1/2 cup light brown sugar
2/3 cup heavy cream
1 teaspoon ground cinnamon
1/8 teaspoon cloves
1/4 teaspoon salt
20 grates nutmeg or 1/8 teaspoon
Optional Topping
Pecan halves or toasted butternut seeds
1-Preheat the oven to 375 degrees. Pierce the squash a few times with a knife. Roast it whole on a baking sheet for about 1 hour, or until very soft. Split in half lengthwise. Remove the fibrous center, seeds and skin. Discard all, or save the seeds for another use. (Clean and toast in a dry pan over medium heat until crisp, then season.) Puree the squash flesh in the food processor. Measure out 2 cups or 1 pound and set aside. Keep the oven on. (Use the rest remainder of the puree as a vegetable side dish, seasoned.)
2- While the squash is roasting, chop gingersnaps in the food processor until fine crumbs. Pulse twice with sugar and melted butter.
3-Pour the crumbs into an oiled pie plate that is 9 inches wide by 1-1/2 inches tall. Use your hands to coat evenly with the crumbs. Press firmly, especially the sides and top. Place on a baking sheet. Cover the edges well with foil to prevent burning.
4-Whisk or pulse the remaining filling ingredients in the food processor just to combine. Pour into the pie shell. Bake for 40 minutes or until just set. If you like, garnish with the nuts in a circle. Let sit or chill cutting to serve.