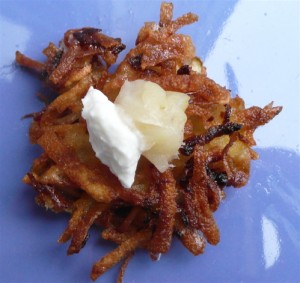 You don't have to be Jewish to enjoy these honeys, which use local apples, parsnips, onions, sour cream and potatoes, if you can find them. (I had trouble, but don't get me started.)
The parsnip adds a touch of earthy sweetness to the traditional flavor, and underestimated fresh apple sauce is always heaven sent. I use thick sour cream from Hudson Valley that is shockingly rich, but just a touch is all that's needed.
Potato pancakes are best served hot from the skillet by a grandmother who runs back and forth to the table, but they may be kept warm in the oven, then served at once. Makes about 24
4-6 apples
fresh lemon juice
sugar, optional
4 medium russet (baking) potatoes
1 small onion, chopped
1 small parsnip, peeled and grated
2 eggs
1 teaspoon salt, or to taste
Generous pepper, freshly ground
vegetable oil
sour cream or creme fraiche
1. Quarter the apples. Simmer, with just a splash of water, covered, stirring ocassionally, until they are very soft. Put through a food mill. If you don't have a mill,peel and core them before you simmer, then puree in a food processor or with a masher. Add lemon juice to taste and sugar, if needed. Set aside.
2. Grate* the potatoes into a colander. Let sit. After they have turned a brownish-pink, about 15 minutes, rinse them thoroughly. Press down in the colander to remove any excess water. Lay potatoes in one layer on a kitchen cloth. Roll and squeeze out any remaining liquid. Repeat if still wet.
3. Combine the potatoes with the onion, eggs, salt and pepper in a medium bowl.
4. Coat the bottom of a large skillet, preferably non-stick, generously with vegetable oil until hot but not smoking. Carefully spoon about 1/8 cup (2 tablespoons) of the batter into the pan. If you like, spread each a little thinner with a fork.
5. Cook over medium heat, until crispy brown, turn carefully with a spatula, then brown the other side, about 6 minutes total. Work in batches, adding oil to the pan if needed.
6. Serve immediately or remove to a newspaper on a large baking sheet, held in a 200 degree oven. Accompany with a bowl of sour cream and apple sauce. Or, using two spoons (or a finger and a spoon), top each with a little bit of apple sauce and sour cream.
*Of course you can use a food processor, but when you grate them by hand they're better. They just are, but watch those knuckles.