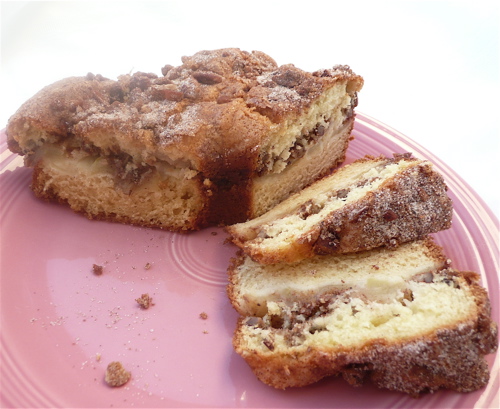 (Going, going, almost gone. One classic coffee cake, nutty and moist with apples.)
Last of apples!
Connie, my pal Eileen's mom, may be gone, but her recipe is not. What better way to conjure her to join our intimate celebration than to bake her fabulous apple cake?
Plenty of local ingredients can be used here — apples, eggs, butter, yogurt, and if you are in the south, pecans. Connie's delicious cake used the classic combo of walnuts and 2 teaspoons cinnamon, but feel free to improvise with ingredients for equally tasty results. I did, using walnuts for pecans and playing with the spices. Next try? A fall cake with roasted almonds, almond extract and local pears.
Serves 8-10
Spiced Nut Mix
3/4 cup chopped pecans
1/3 cup sugar
2 teaspoons ground cinnamon
1 teaspoon dried ginger
1/2 teaspoon cardamom
¼ teaspoon black pepper
¼ teaspoon ground allspice
Cake
1/2 cup unsalted butter
1 cup sugar
2 eggs
1 teaspoon vanilla extract
2 cups sifted flour
1 teaspoon baking soda
2 teaspoon baking powder
1/2 teaspoon salt
1 cup plain yogurt, whole milk or low fat
2 large tart apples, peeled and sliced thinly
1- Preheat the oven to 375 degrees. Combine the ingredients in the Spiced Nut Mix. Generously grease a 9 inch angel food cake pan with a removable bottom.
2- Beat butter until creamy, gradually add sugar while beating until light and fluffy, scraping the bowl as necessary. Add the eggs one at a time and then the vanilla extract.
3-Sift together the flour, baking powder, baking soda and salt. Beat into butter and egg mixture alternately with the yogurt until blended.
4-Spread 1/2 the batter in the pan and layer with the apples. Sprinkle with half the Spiced Nut Mix. Top with the rest of the batter and sprinkle on the remaining Spiced Nut Mix.
5-Bake 40 minutes, then let the cake rest for 30 minutes. Run a knife or spatula around the sides of the cake. Remove the tube with the cake attached and let it cool completely before you remove it from the tube with two knives or spatulas.