Part II — A Taste of the Garden
 leSenda Ecovillage near San Miguel de Allende, Mexico…
The new garden at LeSenda Ecovilla is designed to fed those who live there and for the surplus to provide income for necessities. Currently, farmer Luc Monzies, also sells its produce at the small organic store he owns with his American wife, Maya. (More about that later.)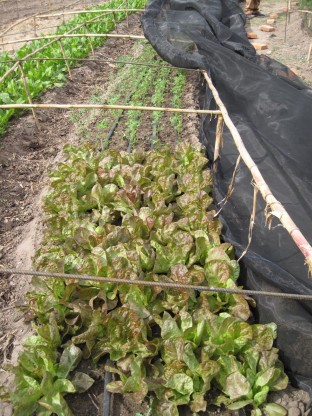 These lettuce plants, transplanted three weeks ago, as well as the rest of the garden, are fertilized using only nutrient rich fish water from the tilapia pond nearby. Note the Mexican bamboo frame, and the row cover, which are pulled aside for viewing. After experimenting, it turns out that 50 percent shade density works for warmth, sun and wind control, protection from grasshoppers — a serious problem here — as well as for moisture retention, which is essential in this arid climate.
Every climate brings its own farming challenges. Here, plants can be nipped with cold at night, as happens in New England. But instead of simply defrosting and carrying on, the strong afternoon sun can burn them. Shade cover helps control this problem.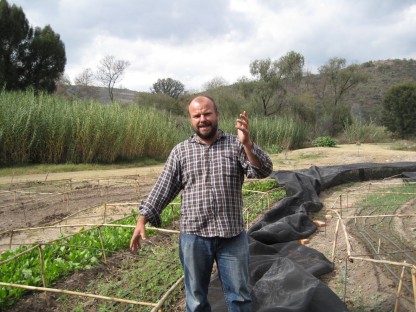 Luc Monzies, who I wrote about last year (here), has been farming for 6 years, experimenting with sustainable methods for arid farmers. During that time he's been busy. He helped found Via Organia, a local store, non-profit and restaurant that is committed to sustainable agriculture; ran a year-long teaching CSA, where members built large garden and greenhouse; helped initiate a cooperative for moringa and stevia growers; jump-started a successful organic farmers market; and opened a small organic produce store.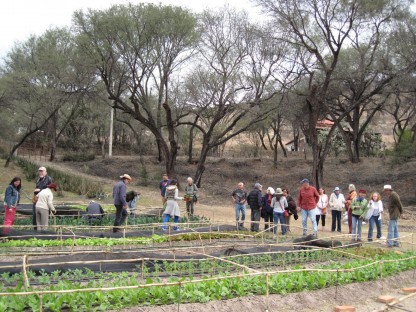 Our eco-tour, overlooking the organic vegetable garden. Ecovilla founders Rick and Barbara Welland paid $1,500 for the garden infrastructure, while Luc and his team provide the labor.Winter crops include lots kolrabi, leeks and tons of greens.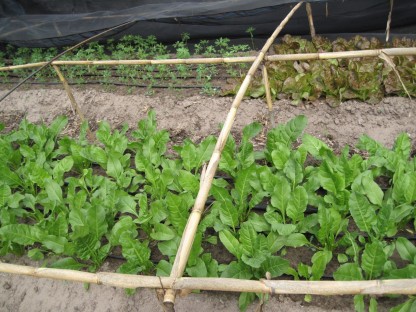 Spinach-beet, the best of all worlds and a new green to me — lively and tasting intensely of GREEN.
Garden view from the walkway in front of apartments, esthetically molded to the contour of the land and covered for protection.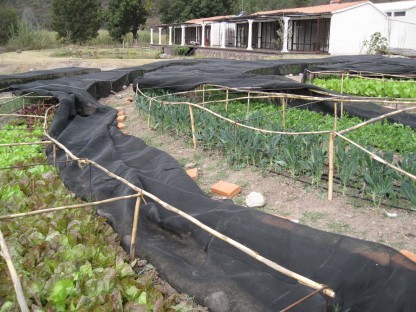 Sweep of garden up to the apartments. Note the kale and lettuce, transplanted only 3 weeks ago and nourished with water from the fish pond.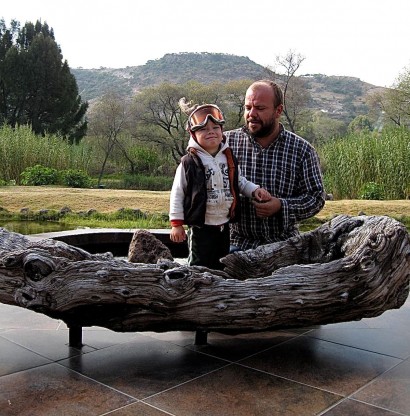 Luc and his son Manuel in front of the housing compound. The Mexican hills in the background are not as vacant as they look. Rather, they are home to small native villages, who settled there long ago.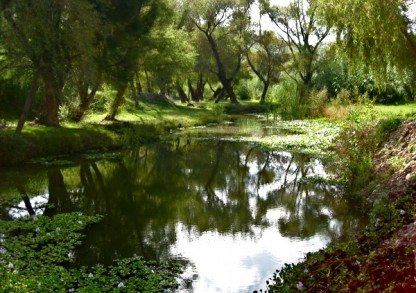 This area, seen during the growing season, will be used for water intensive plants, such as celery and watercress. (The water lillies are composted)