A new generation takes the reins.

Picture above: Good Food Café's crew in San Miguel de Allende, Mexico. Co-owner, Geneva Gray, is holding her daughter, Sianna. Left to right: Alicia Luna, Geneva's sister-in-law and Geneva's right hand gal. Alejandro Hernandez, her husband and main taste tester, who runs the store, which features locally made foods. Standing in the front is Salud Perez, who does everything that has to do with numbers and spreadsheets. Behind her is Rachel Kastner, the baker, who will be running the café side of the business while Geneva and her family are visiting her parents in the USA. (And working on Alejandro's green card.)
Driving the good food revolution in Mexico.
A new generation of good food mavens have left the US moved to Mexico, where it's more affordable put to down roots and start a farm or food business.
Geneva, co-owner of Good Food Cafè is an unlikely candidate for the ex-pat lifestyle. Her small-town upbringing in West Stockbridge didn't include travel, and no one in her family owns a passport.
But in her teens she began to work in town for Scott Cole, at Café Pomo D'oro.  From Scott, she learned about running a small restaurant with good food, great smells and friendly vibes. (And the best scones in the world.)
Then nine years ago she broke away from her roots, married Alejandro Hernandez and moved to Mexico, where they're now raising their three kids.
Her new café's simple menu features well-prepared foods and sustainably raised foods, including their own cured sausage and bacon. (I got to taste her fabulous sausage when Geneva graciously invited me to her daughter's 6th birthday at the store, a fun combo of Mexicans and ex-pats all savoring juicy grilled foods and easy-going energy, kids running inside and out.)
The farm to table connection is evident in the menu. Geneva's "favorite thing" is to walk into Bodega Organica next door to see what is fresh and in season.
For lunch, I enjoyed a tasty dairy-free Green Soup, which is "always made with what's best next door," says Geneva. "I think that version had broccoli, kale, zucchini, carrots, onion, celery and some fresh herbs."
The soup was accompanied by a bright jicoma salad with a ginger dressing. Locally produced food, like yogurt and jams, as well as bakery goods made on premises dot the restaurant's perimeters.
Geneva and her husband also have a homestead where they grow some of the vegetables for the café. They have goats, rabbits and chickens. "It is really for our own sustainable life, but we hope to grow and produce more and more for the café and store."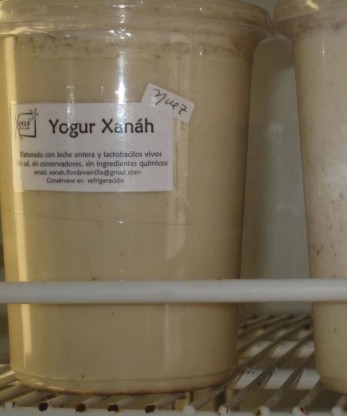 Tasty locally produced yogurt, Alejandro's domain.
Interview with owner Geneva Gray —

Tell us when and why you opened your place, The Good Food Café in San Miguel de Allende?
I opened the café this year because I love to feed people. Also, I wanted a place where people could eat classic American "comfort food" — a real turkey sandwich, chicken salad, homemade soups, but in a healthful way. You can't really find that here.
What's the farm to table connection at The Good Food Café
Our goal at the café is to source as much as we can from local farmers. Our very good friends here, Luc Monzies and Maya Lucas, are farmers.  We share the space with them next door, and have wanted to do a farm to table project together for years. (Note: You may remember Luc from previous posts. Link here and here. )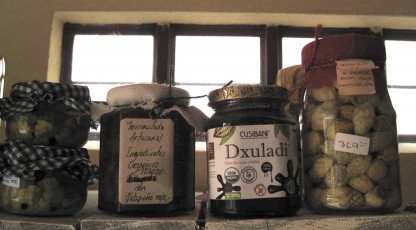 Tasty jarred goodies
What inspired you to open the café?
At first it was the connection with the food, because I really love to cook, but then it became the connection with the people. We have met such interesting, supportive, kind people. They make a point to come and support us, check up on how life and things are going and spread the word.
Who are your customers?
Down to earth gringos. But really, mostly foreigners, US, Canadians, and Europeans, but we also have some Mexican regulars that have supported us from the beginning.
What do the Berkshires, Massachusetts, where you were raised, and San Miguel have in common?
I have always drawn similarities from the two places, they are both around the same distance from a big city and get a lot of seasonal tourism, second home owners and foreign visitors. They are also foodies, and artists. We also have a large community that supports local organic agriculture. They have very similar vibes.
What are your dreams and aspirations?
Our dreams… we have so many! Keep café and store producing quality food that I know is healthy and wholesome. I also study nutrition and work with a group of parents of Autistic children. We are in the process of becoming a non-profit and I coach parents on diet….Mostly we just want to be good role models for our children so they can follow their passion and live fulfilling lives.