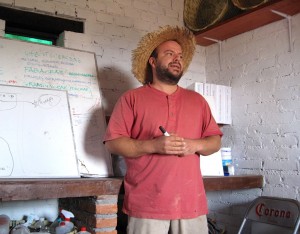 Bi-lingual master organic gardening class with Luc Monzies in a classroom built by the students.
A Day at San Miguel De Allende's Organic Gardening Coop
Last Monday I walked around the Botanical Garden here, El Charco, through what felt like a cactus forest, to the new Organic Farming Coop here in San Miguel, Mexico.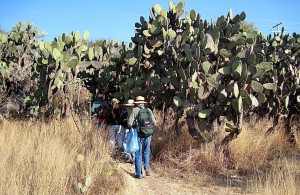 The walk through cacti to the garden — exotic for this New Englander.
Co-Founder and farm mentor Luc Monzies, calls it ,"a community garden with guidance,." It's that and more.
Members actually built the small farm, which after the first 8 months includes an adobe greenhouse, hoop house and classroom. They commit to making decisions collectively and to meeting every Monday, all year.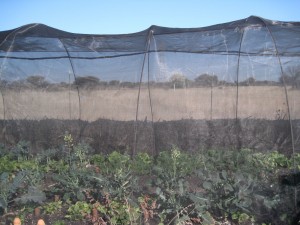 The hoop house keeps the grasshoppers out and provides a little shade.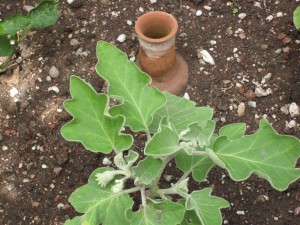 An eggplant plant in the greenhouse.
The soil is lightened with local volcanic stone. Clay pots are distributed among the plants,then filled with water, which leaches out into the soil, an ancient Chinese irrigation technique that works well in this arid climate.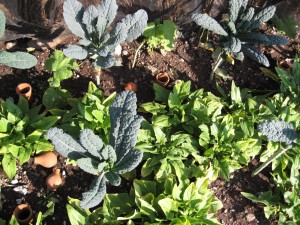 Spinach and kale growing in the hoop house.
Each Monday begins with a bi-lingual master organic gardening class. Ours was a lesson in conventional soil science, contrasting it with the living organic soil and hence the organic paradigm, where healthy soil uses mother nature's helping hand in a more integrated system of farming.
The rest of the day is always spent outdoors, gardening. On the day I visited, it was classic San Miguel winter weather, puffy clouds in a blue sky, bone dry air, sweater weather in the morning, mid-70's in the afternoon. The vibe was friendly, supportive and upbeat. We worked, mostly with Luc's guidance, but also with peer to peer support. As you can see from the pictures below, we planted onions and harvested cilantro seeds.
Planting onions (same clay pots, but with tops) on a perfect January day in San Miguel.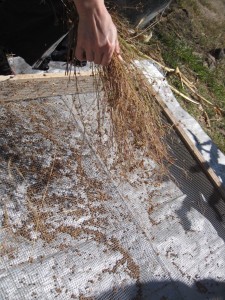 Organic seeds are unavailable, so the garden saves its own.
We harvested dead cilantro plants gone to seed, then sieved out the seeds for later plantings.
Members are left with their share of the crop, as you can see from the picture below. It's often been lean by CSA standards. But, now that the garden's infrastructure is complete, Luc feels the second year will have much better yields. Members join for the gardening expertise, both theoretical and practical, to support sustainable agriculture, and, for some, to train others. Right now, the food is the gravy —logical, but hard for a hard-core foodie like me to digest.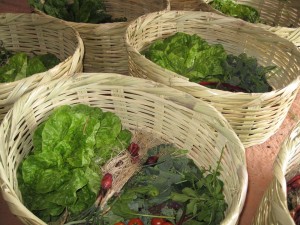 Weekly shares in baskets.
Vegetable shares have been scant by CSA standards, but are expected to grow as garden expands and more members join. On the upside, members leave with a deep understanding of organic gardening that they can take into their communities or homes.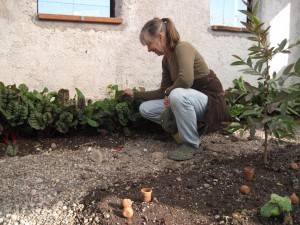 Founding member Beverly Spiro in the green house with Swiss chard.
A young guava tree is to the right.
Nuts and Bolts
You gotta start small and grow sustainably, right?
This is an extremely small pilot project. The organic model here is based on 16 full time members, each paying $1000 a year for the class and share. Right now there are 12 full and part time members, including 1 sponsored by an individual and 2 sponsored locally from NGOs — Casa A.C. and Cedesa, A.C. — who will train locals in organic gardening practices.
Funds go to pay the teacher, Luc, extra labor, which shouldn't be needed once membership is full, and building materials. Land is generously donated by American retirees Ruth and Collier Kear, but there's a shortfall, until 4-5 new members are found. (If you're reading this and live in San Miguel, please spread the word!)
While a total budget of $16,000 seems a small budget to run a farm and year round classes, the member fee is out of reach for the average Mexican. (Luc tells me that minimum wage here is under $5 a day)
The dream? Once the kinks can be worked out, the garden can be replicated, supporting 15-20 families. Those who attend a year's course (or 2? Or 3?) could become certified, with graduates training others.
Luc tells me that they have not been able to find a comprehensive manual that covers high altitude, arid organic gardening in Mexico, which has serious challenges, including a huge range of daily temperature. So, from the first class, a manual will be developed, an important contribution.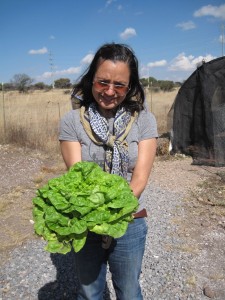 Coop member Gabriela Villarino, who is a recent transplant from Mexico City, with freshly harvested lettuce.
Standing on Sturdy Shoulders —  a little history
The vision of this small coop, high up in San Miguel, Mexico, sprung from retired American Collier Kear and Luc Monzies, the French-American descendant of 2 generations of farmers and educators.
Luc's French grandfather pioneered biodynamic farming in France in the '50s, training new farmers, while running a highly diversified farm, which included cheese making, an extensive orchard, herd of cows, diverse vegetables and even fish farming.
Biodynamic farming could be considered organic-plus. It was originated by Rudolf Steiner about 20 years before organic farming, using a variety of nonchemical holistic methods, many of which cross-over with organic farming but also utilize the forces of nature, such as the cycles of the moon.
As Waldof School teachers, Luc's parents embraced Steiner's ways. They also become members of one of North America's first two CSA, Temple-Wilton Community Farm in New Hampshire, where Luc watched the concepts of community sustainable agriculture firsthand.
As many of you know, "CSA" stands for community supported agriculture. Although it denotes a kind of farming, the term has also come to mean the farm itself. CSA members, sometimes called shareholders, agree to support an environmentally responsible farm and farmer by paying upfront costs before the growing season and sharing in both the bounty and the risk of the harvest. While all CSAs operate in their own way, these principles remain constant. (Find a CSA near you.)
Interesting to me, Indian Line Farm, the other "first" CSA gave me my start in the local food movement.  It was started by Robyn Van En, the mother of the CSA movement, who introduced me to the concept in the Berkshires, Massachusetts, when I first moved there. Robin spread the word with a little booklet she handwrote on lined paper. Today there are well over 2000 CSA in North America.
For me, this gardening coop is like a CSA turned on its ear and adapted to this community, something Robyn would have appreciated. The "core" group, which in most contemporary CSAs now just picks up produce, really gets to put a face on farming by creating and running a farm first-hand.
This Organic Farming Coop is a work in progress and very tiny, but bravo!
.