laSenda Ecovilla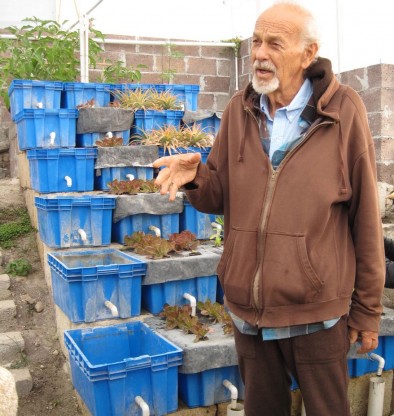 LaSenda Eco Villa founder Rick Welland and his tiers of aguaponically grown vegetables
(LaSenda is part of the Global Eco Village Network)

As a longtime local food nut, the idea of living on a small farm in a stunning valley, dining year round on organic greens and tilapia, farmed from a pond out back, sounds mighty appealing.
In this perfect world, I imagine everyone getting along wonderfully, chipping in to get the work done, then finishing each day off with a spectacular shared meal.  All this takes place on small, energy independent compound that's radically affordable to maintain and manages to give something back to the local community to boot. Dreaming, eh?
I'm not the only one.
Last month, I staggered off the plane from chilly New England to join a group visiting laSenda Ecovilla, a tiny intentional community in its infancy, about 20 minutes outside of San Miguel de Allende, Mexico.
Food
We started with food, my favorite. The agricultural system in laSenda Ecovilla runs on a closed cycle. The small tilapia pond produces fertilizer for the vegetables, which are grown using aquaponics . (Unlike hydroponics, where chemicals are fed into the water, here, no chemicals are needed). And better yet, in this arid climate, 98% less water is used then in conventional agriculture.
This balanced system uses both gravity and a solar powered pump to circulate the water, flowing from the nutrient-rich fish pond to aquaponic tiered vegetable trays. From there, the clean, aerated water is gravity-fed back to the fish and around again to the vegetables. There's been plenty of trial and error, but the system has been working so well that plants grow ten times more rapidly.
The riverside location and climate appeal, especially after a winter in New England —  a fledgeling papaya tree sits in an area protected from the cold, succulent aloe vera is grown, then juiced as a digestive, and there's the promise of year-round growing.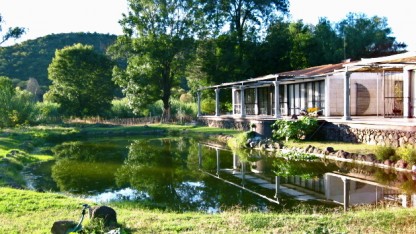 West wing and fish pond at laSenda during the rainy season. (for more pictures, visit the website here)
Living
The 6 attached living units are each self contained, stunning in their simplicity, fronted by south facing floor to ceiling glass, opening to a columned covered walkway looking over vista you see here. The 870 square foot apartments have two 2 rooms, one with a bed that rolls out, a bathroom and small kitchen. A large kitchen and sitting area are in a cheerful communal room. Members are asked to help out and share the bounty.
The solar building is outfitted to be energy independent, using stones that heat well in the cool weather and cool down in the heat, Mexican bamboo ceilings. The river-side location is ideal for good water, the holy grail here. The main pond, one of many is fed from the river, flowing underground through gravel, which helps clean it. Drinking water, always an issue here, is gravity fed from high in the canyon t their well below. Hence, the water is tested regularly and is clean enough to drink.
Living costs are low. Electricity is covered by the sun, fresh food grown on premises, as well as fish. A shared car goes to the neighboring city of Celaya every few weeks for wholesale tropical fruit. As of now they are selling surplus vegetables at the organic market in San Miguel each week to subsidize necessities. The land will be part of the corporation, so that members are buying a 1/6 share of the complex, including their living unit.
With its idyllic country setting, almost a micro-climate, only 20 minutes out of San Miguel Allende, fresh organic foods and economical lifestyle — $50,000 for an apartment and shared use of the land — this could be a fine match for the right people. But it isn't for everyone. Although the apartments are self-contained, members make a commitment to communal living. And they have to buy into the eco-principles of the village, including a diet that fish, but excludes meat and diary. (And a no smoking or drugs policy.) Those interested are asked to rent for 6 months to make sure everyone's happy before committing, a smart idea. With 2 units filled, there are 4 to go…..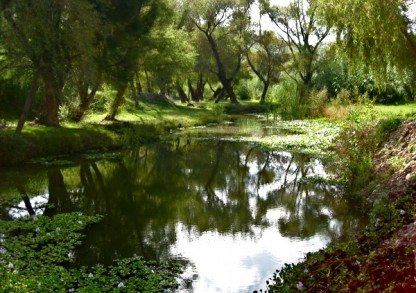 The lower fish poinds next tothe Rio Laj. 
The next move?
Community: In the future,  laSenda Ecovilla will be running organic gardening training and art classes in the local native villages.
Interested in learning about eco villages?
The Senda is part of a Global Eco Village Network.  Founder Rick and Barbara Welland recommend reading The New Earth, and following the eco village movement, which is growing rapidly.
Comment
I've been interested in intentional communities every since reading the picture book with Barbar the Elephant in idyllic Celesteville, a shared village where everyone flourished, even minorities.  (Oh those elephants, working their chosen trade half a day, playing the rest.)
And then later Utopia, of course, and there was the 70's, a bit of communal living and all that. Sure, as an adult, I understand the perils of shared living, but it still attracts me, because there's got to be a better way….
What about you?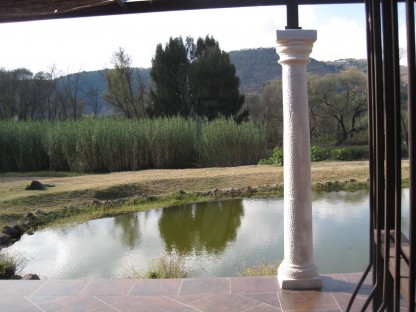 View from apartments during the dry season.  Two weeks after I shot this it was green!