A Simple but Scrumptious Valentine's Day Supper
or
Below: Prepare ahead and serving tips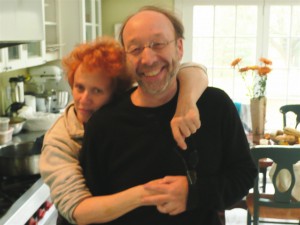 Wish you all the best. Love is all you need……….
P

r

e

p

a

r

e

A

h

e

a

d

T

i

p

s



I designed this simple meal so you could prepare it over the weekend, if needed, then serve it on Monday night after a hard day's work.
How? Make the dumplings and freeze for a day or two. (Yes, they do lose some of their delicate flavor, but not much. They're still heavenly.) Cook right from frozen right before serving. The sauce and truffles can be made over the weekend as well.  Double the sauce, as some goes over the greens. Take the sauce and truffles out of the fridge 30 minutes before serving. Prepare the Apple Galette over the weekend too. Freeze uncooked, then cook from frozen.
Just remember anything cooked from frozen takes a little longer.
T

o

S

e

r

v

e

Set the table. Light the candles. Cook the Shu Mai as in the recipe. While it's cooking, wok the spinach, using the wok/sauté directions in the recipe.  (You can use other greens, but spinach has a mild taste that will complement the shrimp without overwhelming it). Place the greens in shallow bowls and drizzle with some of the sauce. Place the dumplings on top. Sprinkle it all with sesame seeds. Serve the remaining dipping sauce on the side. Finish with dessert.Enjoy!