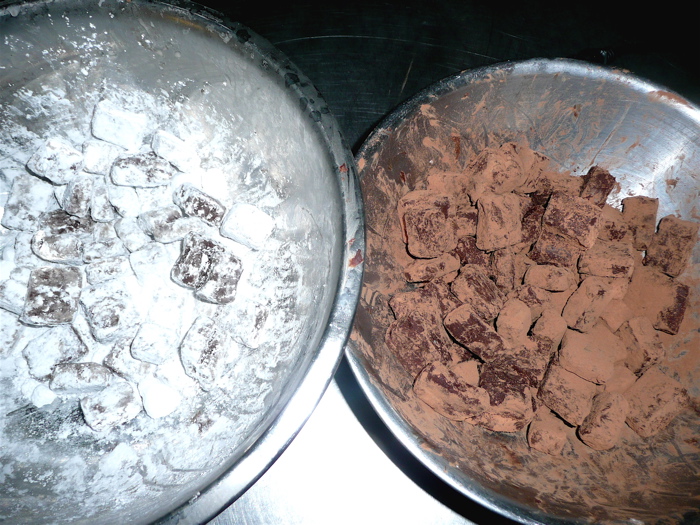 Thinking of a locavore treat that you can make in the winter?

(Full and festive winter locavore meal below)

These truffles were so popular last year that I'm blogging them again. They're extraordinary in their simplicity — fresh local cream mingles with the best chocolate you can find. I used Belgium Callabuat chocolate with butter and cream from Highlawn Farm, where the vista is classic New England and Jersey cows bat their long lashes. I couldn't find local butter, but the vanilla is aged in wooden barrels at Baldwin's right here in West Stockbridge. And so, local meets global in this last gasp of holiday decadence. Makes about 40 or so small square truffles, but I doubled 'em
The Truffles
7 ounces top-notch semi sweet chocolate , chopped
1/2 cup unsalted butter, sliced
1/3 cup cream
1/2 teaspoon vanilla
A generous pinch cinnamon
The Coating
Confectioner's sugar
Cocoa powder
1-Melt the truffle ingredients together in a double boiler or microwave, then whisk to combine thoroughly. Pour into a lightly oiled 8 by 8 pan and chill well.
2-Cut in half or into quarters. Use spatula to remove the squares of chocolate from the pan. (If you have any trouble removing them, run a very hot kitchen cloth over the bottom of the pan and a knife along the edges.)  Cut each square into approximately even squares. (Your choice on size, but keep 'em small.) If the chocolate gets melty while you are working with it, return it to the fridge until firmer.
3-Add half the squares to a bowl with confectioner's sugar and half to a bowl with cocoa powder. Toss to coat. (They coat best when they're getting a touch soft, so wait if you need to.) Serve in truffle cups, stacked like tiles or any which way.(For later use, store in fridge. They also freeze great.)
Fun variations: Coat with any kind of toasted chopped nuts; shredded coconut (for an upscale mounds bar); a pinch of cinnamon or instant espresso added to the cocoa powder. Try anything; you are only limited by your imagination.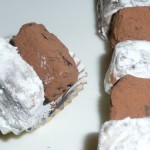 Locavore Winter Meal? It isn't easy to pull off an economical locavore meal when the ground is rock hard and covered with snow. But this year I've done well, thanks to the holiday markets and end-of-the-season CSA sales that seem be thriving everywhere. (There are now 900 winter season markets.) Fear not, recipes that aren't highlighted are coming during the winter!

The Menu —
Maine Shrimp Ceviche with Berry Farm Arugula
Winter CSA Potato and Celery Root Ravioli with Parsley Pesto
Wilted Baby Greenhouse Spinach with Farm at Miller's Crossing Roasted Beets, Shiitakes, Monteray Chevre and Balsamic Syrup
Ginger Bread with Highlawn Whipped Cream and Fresh Windy Hill Apple Sauce
Looking for a virtual local food vacation on a snowy day? Check out Caroline Alexander's site, Berkshire Food Journal, where she chronicles regional farmers with audio interviews and accompanying photos.