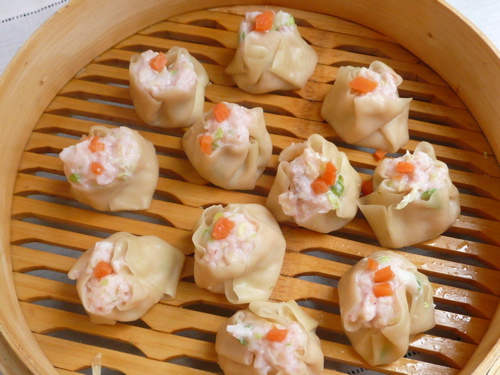 Seasonal shrimp anyone? Most of us are used to frozen or defrosted rather than fresh shrimp, so these Maine babies with their softer texture and slightly sweet flavor are a winter gift.
Look for regional shrimp near you. (See below for more.) Here, I found them at the supermarket and at Rubiner's in Great Barrington, where they are available for about another month. You can buy them whole for a shrimp boil, or as they are used in this recipe — peeled and ready to cook. They lend themselves beautifully to the light and subtle dumplings here.
Shu mai, savory dumplings of fish, chicken or veggies, spiked with Asian seasonings and bundled in thin dumpling wrappers, have been a foundation recipe in my repertoire since my early 20's. Once I even held a dumpling party for close friends. Guests made their own dumplings from a selection of fillings, then I steamed 'em all up to enjoy with a wok full of veggies and plenty of beer. Makes 25-30, serving 2-3 for dinner with vegetables or a salad, or many more for appetizers.
Shu Mai
1 lb shrimp
1/2 cup finely grated cabbage
1 scallion, white and green, thinly sliced
1 teaspoon coarsely grated ginger
1 clove garlic, minced
l teaspoon rice wine vinegar
Generous pinch cayenne pepper
Generous pinch sugar
¼ sea or kosher salt, or to taste
1 carrot, diced, optional
25-30 dumpling wrappers, round or square with the corner cut off
Sauce
1/2 cup lemon or lime juice
¼ cup sugar
2 tablespoons fish sauce
Generous pinch cayenne
l. Puree about 3/4 of the shrimp in the food processor until smooth. Remove with a spatula to a medium bowl. Add the rest of the shrimp and pulse to chop. Add to the bowl. Add the rest of the filling ingredients to the shrimp.
2. Lay out about 10 dumpling wrappers at a time. Put about a tablespoon of the filling in the center of each. Bring the wrapper up on four sides to form a loose four lobed cloverleaf, then press each round lobe firmly toward the filling to form an open cupcake-like dumpling with the filling exposed at the top. Lift and pat on the counter to create a base. Repeat with the remaining filling. (Don't worry, they don't have to look perfect, just press around the sides so they won't fall apart.) If you like, put a diced carrot piece or more on the top of each dumpling.
3. Arrange the dumplings about 1/2 inch apart in concentric circles on an oiled or cabbage leaf lined steamer. Steam the dumplings over 1-2 inches of boiling water for 8-10 minutes or until just done through. (Taste one.)
4. While the Shu Mai are cooking, combine the sauce ingredients in a small bowl. When they are finished, take them off of the heat for a minute or two. Drizzle each with a little sauce. Serve immediately.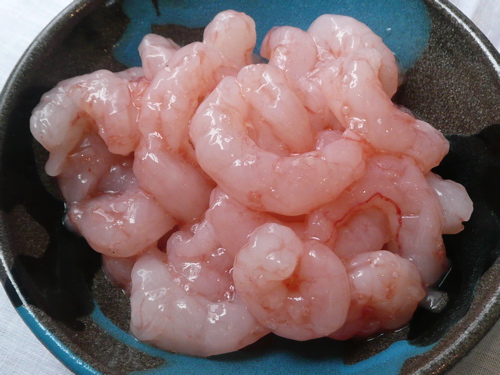 Americans Adore Shrimp
The vast majority of shrimp consumed in the United States is imported from Asia and South America and is industrially farm raised. Farm-raised U.S. shrimp is an accepted eco-friendly choice, though it can be a challenge to find. Regional wild shrimp are available from the southeast Atlantic coast and the Gulf of Mexico, Maine pink shrimp are sold in the winter, and trap-caught spot prawns are found on the West Coast.
Sustainable Fish?
The Monterey Bay Aquarium is an excellent resource for more information about eco-friendly fish consumption. Their Web site provides downloadable, pocket-sized, regional lists (as well as a list for seafood used in sushi), a searchable database, recommendations on what to buy, and more information about your favorite seafood items. Once you have the hang of what's local, you can instantly find out what's sustainable by using FishPhone, The Blue Ocean Institute's sustainable seafood text messaging service. Just text 30644 with the message FISH and the name of the fish in question, and they'll text back an assessment and better alternatives to fish that have significant environmental concerns.