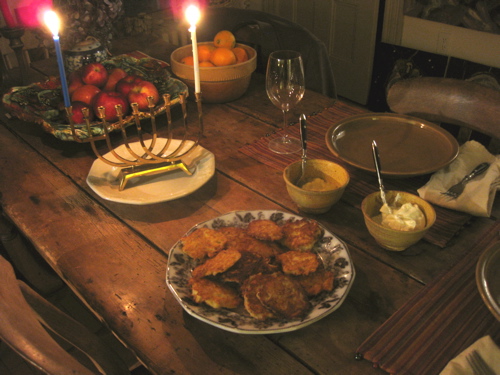 First night of Chanukah, complete with latkes, at the home of our friends' Roz & Peter.

As a culinary coach, I trained Tracy how to integrate healthy food into her family's diet. But she taught me how to regain a sense of adventure about local foods through her imaginative gift giving.
During the holiday season, way past our growing season, Tracy and her kids still manage to come up with gifts featuring a variety of local food items, many purchased at retail outlets, and one boosting local food and farm initiatives.
So, instead of generic gifting, she was able to give something with terroir, a taste of place. I've added some alternative suggestions, but you can easily create your own gifts this holiday season and take the journey yourself.
Locavore Gifts  (food gifts below)

• The Locavore Way, my comprehensive guide to seeking out and savoring local foods. It's only $12.95, a keeper and pretty to boot. Seasonal cook books are also a great locavore gift.
• Cooking classes in your home or mine, in the Berkshires or Manhattan, solo or in a group.
• A CSA (Community supported agriculture farm) membership. This major gift is bag of sustainably raised food each week during the growing season and sometimes beyond. Find a CSA near you.
• Donation to a food pantry. The good food movement means good, fair and clean food for everyone. So why not give to a local food pantry or food bank? Near me, Share the Bounty collects donations large and small for CSA shares that go to food pantries. For a food pantry near you.
• Calendar, cards or posters that highlight farms, farming, regional or heirloom vegetables. Some tell farm stories, have seasonal food information or boost the biodiversity by illustrating beautiful varietals. Find them at independent book stores, nonprofit local food initiatives, state agriculture departments, garden centers, agricultural education centers, etc. Or give a freebie, such as a local farm stand or pick-your-own map.
• Membership in a regional local food and farm initiative near you, such as those in Massachusetts near me, like Berkshire Grown, where I was the founding director, CISA, SEMAP or one of the many foodroutes chapters around the country.
• Donation to non-profits that boost our sustainable farms, such as the National Sustainable Agriculture Commission or The American Farmland Trust.
Locavore Gift Box
• Pretty cloth-covered box to hold gifts, if you are giving an assortment. Tracy used a recycled box she found at a craft store.
Food Gifts
• Skip traditional gifts. Instead, share pot-luck meal with loved ones that features local foods, such as meat, fish or poultry, eggs, maple syrup, root vegetables, winter squash. Check out my local food blog for ideas. (Use the upper right corner box to find what you need.)
• Make your own. I like to give homemade sweets, applesauce and even shiitake mushroom soup. Create a pretty booklet of your favorite local food recipes for someone who loves to cook.
• Red Lion Inn salad dressing. Locally produced salad dressings are readily available. Or you could make your own using
local herbs, maple syrup, olive oil, and citrus. During the growing season, why not make herb or chili flavored vinegars or add mesclun from the farmers' market? This time of year, you can add package grated local vegetables, such as cabbage, carrots and/or celery root.
• Berkshire Mountain Bakery toasts or locally made breads. If you can't find toasts, look for locally produced crackers or bread made with local grain, if possible. Other local ingredients include cheese or rosemary. Why not include some jam made from local berries?
• Monterey chèvre. Tracy bought fresh goat cheese, produced by Rawson Brook Farm. Include a local cheese from your neck of the woods. And why not throw in a few orchard apples or pears with the cheese? (Remember to deliver your gift quickly if it contains perishables.)
• Berkshire Brewery Yule Fuel. This beer is from a regional microbrewery. Is there a beverage that's made from ingredients
grown near you? Apple or sparkling cider? Wine?
• Arnoldo's salami. A local fixture, this old Italian man has been making quality salami for years. Maybe you have an artisan
food producer near you?
• Maple syrup. If local syrup, like the Ioka Valley Farm syrup near me, is not available, give honey. Or make your own pancake mix or muffin mix with local grains. When in season, throw in a box of local berries or fruit to add to the mix.
• Sweet William ginger cookies and Berkshire Bark. Who doesn't like cookies and chocolate? Tracy bought locally made cookies, though you could easily make your own using local butter and eggs. Or buy or make any treats that feature local produce during the season, such as chocolate dipped strawberries in June, or locally made chocolates, such as Chocolate Springs near me, which support a local business.
• Baldwin's vanilla extract. The beans may be from afar, but this extract has been distilled in my hometown by a family business since 1888. Choose a product that's made near you and keeps a local company in business.