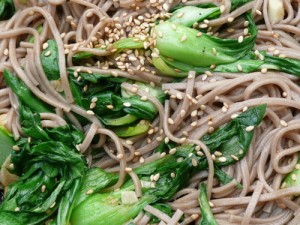 Mark Twain said cauliflower is nothing but cabbage with a college education, but he may have been talking about bok choy, who went to college in Asia. Baby Bok Choy, a variety of Chinese cabbage, offers eaters both silky mild greens and a crunchy cabbage with a subtle taste and excellent mouth feel. It is also shockingly good when fresh. And of course, it's meant to marry into the classic family of Asian flavors — ginger, soy, sesame oil and scallions.
Last year I grew too much boy choy, so this year I skipped it, then, of course, missed it this fall. So I picked up a bunch of three medium heads from Crista Stosiek at the farmers market on Saturday. I knew it would come in handy when there wasn't much in the house, now that my garden is pretty much finished, except for my hearty herbs, hence the recipe's use of chives.
A snap to make, this tasty dish is fresh tasting and healthy, combining the fresh veggies and whole grains we're supposed to feast on. I like to cook the pasta while I'm wokking up the bok choy so it all comes together at once.  2 very generous one pot meals to 4 side dishes.
4 cloves garlic, minced
1 teaspoon or so grated ginger*
1 or so tablespoons any oil that's not strong
1-1/4 pounds or about 4-5 baby bok choy
8 ounces buckwheat (soba) noodles
1/4 cup sliced scallion greens or chives
1 tablespoon soy
1 tablespoon sesame oil
1 generous pinch of hot chili pepper flakes
Salt to taste
Toasted sesame seeds, optional
1-Put about 3 quarts of water on to boil.
2-Add the garlic, ginger and oil to the bottom a wok. Slice the bok choy, both the green and white part, into 1-inch pieces, or cut into long thin strips, as you wish. Rinse in a colander, leaving some of the water clinging to it.
3-Heat the oil over high heat, stirring it once or twice to prevent burning. Immediately, the rinsed bok choy, without worrying if a little water is still clinging to it. Turn continuously, until the greens are wilted and the cabbagey part is hot and a little softer, but still crunchy, about 5 minutes.
4-Add the pasta to the lightly boiling water. Cook until soft but not mushy, about 7 minutes, stirring occasionally to prevent sticking. (Taste!) Drain.
5-Immediately, add the cooked noodles to the wok, tossing it all together with the scallions or chives, sesame oil, soy, hot chili pepper flakes and salt, if needed. Sprinkle with optional sesame seeds, if you are using them. Serve.
* Ginger tip
Ginger doesn't hold well, but I love to have it around when I need it. So I freeze it and grate it straight from frozen. Barbara Tropp, the Chinese food maven, freed me from peeling it, as she didn't. But you can, if you wish.