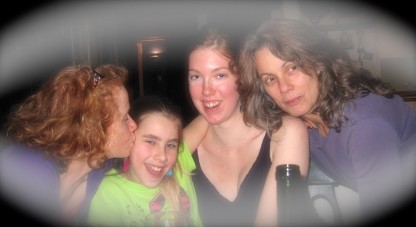 At Passover: Me, my neice, Sadie, my daughter, Emma, and my baby sister, Ellie.
Spring has sprung. We're not quite into edibles here in Western Massachusetts, but my chives are starting to come up between the patches of melting snow.
I've been posting lots on facebook lately, including the items below. So if you want to check in more frequently, share information or ask culinary questions, the link is here!
Join me! Two spots left in my Cooking Main courses with Local Greens cooking class on April 27th. For more see this link.
Please write and tell me what's happening in your local food world!
COMING UP VERY SOON
SATURDAY, APRIL 6
2nd Annual Interfaith Paschal Lamb Roast
Menu including: Fire Roasted Whole Kinderhook Lamb with Mint Sauce, Winter Squash w/ Ioka Valley Maple Syrup and butter, Roasted Celeriac with Parsley, Farro and Crimini Mushroom Pilaf. In Great Barrington, MA. Link here.
THIS SUNDAY, APRIL 7
Bitter Seeds, a documentary
In India, GMOs driving farmers off the land. See Bitter Seeds at 11:45am at the Triplex in Great Barrington, sponsored by Project Native. This multiple award-winning documentary is a gripping portrait of a region under pressure, a young woman coming of age and a farmer's fight to save his land and his farm. See excerpt here…
CHEFX CULINARY EXCHANGE
5 courses/5 chef. Berkshire Chefs in Hudson. Read more at this link.
THIS MONDAY, APRIL 8
Farm to School is about food democracy. Come join me and other panelists — Emily French from Massachusetts Farm to Table Project, Brian Gibbons from Berkshire Organics ,and Ted Dobson from Equinox Farms — as we talk about bringing farm fresh food to our schools. 7:30pm at First Baptist Church in Pittsfield, Open to all; RSVPs to Barbara at Berkshire Grown helpful (413) 528-0041. My free MA Farm to Table Cookbook is here. Link about event is here.
APRIL 17-26th
Earth Dinners are an annual series of events sponsored by Chefs Collaborative and Organic Valley to promote local, sustainable, and organic foods – and restaurants! Dozens of restaurants across the country participated last year and donated a portion of the proceeds to Chefs Collaborative, a national organization supporting sustainable agriculture. Link here.
ITEMS OF INTEREST
Modern Farmer, New Magazine and Website
Global coverage. Looks promising. Read their fun piece on Getting Dirty On-Line with Farmer Dating. Link here.
Fair Grounds in Great Barrington a Sustainable Agriculture Haven?
Well, despite the negative headline — Is the Great Barrington's Farm to Table Idea a field of dreams? — fascinating things are going on at the local fair grounds, which are right on the Housatonic and have remained unused for years. Link here. Stay tuned….
New way to challenge corporate rule of our food system?
Good article in Truthout about ways to bust up the corporate food system, a system that looks like this — (link here)
* 4 companies own about 84% & of the U.S. beef market;
* 4 firms control 66% of the pork-packing market
*4 companies own 43% global commercial seed market
*3 companies control 90% of the global grain trade
*4 companies own 48% of grocery, etc…..
ANYTHING LEFT FROM YOUR FALL HARVEST?
Cool Potatoes
Cedar Circle Farm in Vermont's got purple polka dot potatoes left. If only I lived close by. No local potatoes left here…..You have any? Link here.
Lemon Verbena
I'm brewing tea with the last of my dried lemon verbena, the only thing left from last year's harvest. Not as strong as it should be after a long winter, but still unique in flavor that I adore.