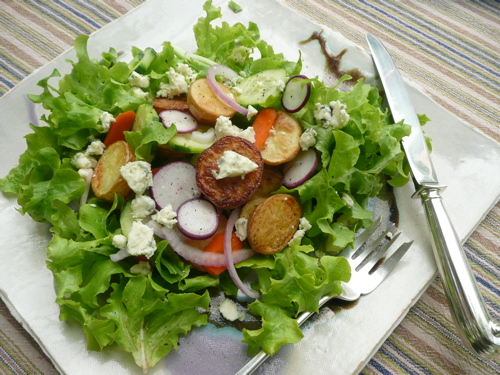 1 spots!
Mark your calendar
Bring a friend
Spread the word
Give a delicious gift
Locavore Way Cooking Class — Main Course Salads
Use local greens as a base for main course one-dish meals! (See menu below)
April 27th
10am-1:00pm (or so)
$50 plus a $20 food fee, including a delicious lunch
139 West Center Road, West Stockbridge, MA 01266
Please send a check to hold your spot.
Join veteran teacher Amy Cotler, who has taught at Culinary Institute of America, Institute for Culinary Education and tested almost 1000 recipes, including those for her own books and Joy of Cooking. Amy is a longtime farm to table advocate, popular speaker and Author of The Locavore Way, Discover and Enjoy the Pleasures of Locally Grown Food.
Questions? Call 413 232 7174 or visit www.amycotler.com, where you can also find her Locavore Way, book recipe blog and radio show.
To register: Mail checks, written out to Locavore Way to Amy Cotler, 139 West Center Road, West Stockbridge, MA 01266.
Menu
Teriyaki Salmon and Soba Noodle Salad with Cooked Greens
Spring Greens Market Salad with Pan Roasted Potatoes and Feta
Cracked Pepper Grllled Chicken with Field Greens in a Lemon Dressing
Wilted Greens with Gorgonzola Croutons
Shrimp, Rice and Spring Green Sambal
Mesclun Greens with Roasted Mushrooms, Goat Cheese and Balsamic Syrup
Plus: How to make perfect salad dressings
Other local food events
March Maple Month Dinner, cooking by Berkshire chefs on March 18th. Find out more. http://berkshiregrown.org/march-maple-dinner-2/
Fundraiser, cooking class and dinner in Boston with Odessa Piper this Saturday.
News
Kill amendment 28! Protect our healthy food source! Commercial fishermen, processors, distributors, wholesalers, retailers, consumers, restauranteurs, chefs, conservationists, and folks like you are all fighting for sustainably-managed fisheries and YOUR right to enjoy healthy U.S.-caught. seafood.