Salt Alert:
Apologies to those of you who thought you really needed 14 teaspoons of salt in the cucumber soup.
It was a typo: It's 1/4!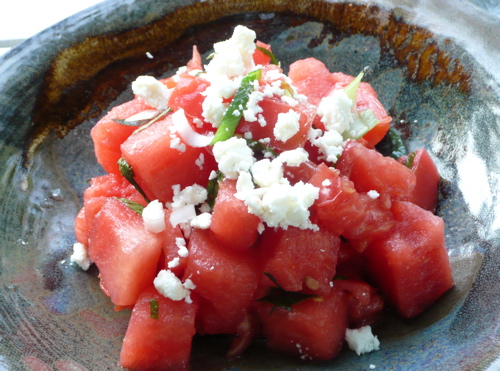 Savory, sweet and salty — what more can you ask for? Crisp watermelon and flavorful heirloom tomatoes make this salad a summer classic. I used Brandywine tomatoes and peppermint from my garden. Local watermelon is now available, and there may be a local feta producer near you. Feel free to add peeled, seeded and diced cucumber if you like. This is truly refreshing….
2-1/2 cups 3/4 to 1 inch cubes of heirloom tomatoes
About 1/2 teaspoon kosher or sea salt
About 20 mint leaves
1 small scallion, green and white, sliced
1-1/2 tablespoons lemon juice or 1 tablespoon white balsamic vinegar
1-1/2 tablespoons extra virgin olive oil
4 cups 3/4 to 1 inch cubes of watermelon
About 1/3 cup crumbled feta
1-Place a colander over a bowl. Add the tomatoes and toss with the salt. Let sit 1/2 hour or for up to 2 hours.
2-Stack and tightly curl the mint leaves, then slice thinly. Add to a small bowl along with the scallion, lemon juice and olive oil.
3-Toss the tomatoes with the watermelon. Then add and toss with scallion-mint dressing. Pour off any excess liquid. Taste, adding additional salt if you like, remembering that the feta is salty. Pile the salad on a platter or individual plates, sprinkled with feta cheese.
Nurture vs Nature
Because my daughter Emma is adopted, I've always been particularly interested in questions about nurture vs. nature. Now, I'm not insinuating Emma is lamb-like, but this sweet article on sheep is worth considering….