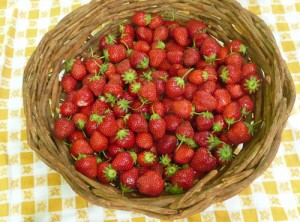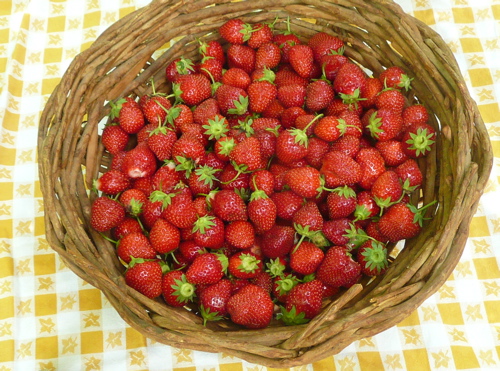 Fresh picked strawberries in my favorite basket
Pick your own strawberries (call first to see how the crop is doing)
Massachusetts  (Pioneer Valley) here
Massachusetts (Berkshire County) here (and type in strawberries)
National and international as well as canning, preserving, etc. here
Two recipes for your strawberry haul this season
Strawberry Yogurt Soup
Strawberry Blintz Day Dream  (an adaptable recipe for other summer fruit)
Don't forget strawberries tossed with sugar to taste & a touch of balsamic vinegar.

Strawberry Yogurt Soup
Serve this brightly colored, vibrant tasting soup as light meal, brunch course, or simple dessert. I wrote the recipe for the Joy of Cooking in 2000, hence old fashioned format. The amount of sweetener used will depend on the flavor of the berries, but go lightly. 4 servings.
Reserve 8 strawberries, then hull and halve:
l quart strawberries
Toss with:
l/3 cup confectioners' sugar or 3 tablespoons honey
Grated rind of one orange
Set aside for 15 minutes, then blend until smooth in a food processor. Pour into a bowl, then whisk in:
2/3 cup yogurt
l/2 cup fresh orange juice
If necessary, whisk in more sweetener to taste. Serve immediately in small chilled bowls or chill for later use. Garnish with:
8 reserved strawberries, hulled and sliced

Strawberry Blintz Day Dream
Tortillas make crisp blintzes that are light and a snap to prepare.  Better yet, you can use whatever fruit's in season.
This is a strawberry variation, yet untested, on a recipe I blogged last year, which used seasonal peaches and blueberries. (See link below.) Right now, strawberries are at their peak, and so try this now —
Slice about a pint of fresh strawberries in half lengthwise, and then slice thinly. Toss with sugar to taste. Heat just until sugar is melted, stirring once or twice.
Make the filling with 1 cup room temperature whole milk ricotta with sugar, vanilla extract and grated orange rind to taste. (You can add a tiny bit of orange liquor if you like.) Add two chopped strawberries too, if you like.
Lay two small (taco size) tortillas on the counter. Put 1/2 of the filling into each. (They can be heated to soften if they are rigid, but they should be OK.)
Fold in the sides of each tortilla and roll without cracking. Don't over stuff them and don't worry if they don't seal perfectly. Heat about 1 tablespoon butter and put the blintzes in the pan, seam side down. 
Brown to seal, turning once, about 2-3 minutes each side. Serve immediately with the strawberry sauce. (If the strawberries aren't as juicy as you like, add a little OJ and/or mash them with a potato masher.)
Later on in the summer, when the peaches and blueberries are in, try the well-tested recipe at this link.  Wow.
These make a romantic brunch or a surprise dessert course.