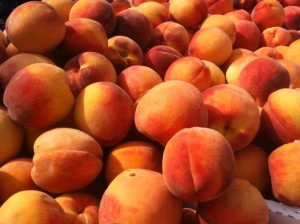 Using tortillas, rather than the traditional crepe wrapper, results in a crisp crust that's lighter. It also cuts down considerably on the preparation time, making these a snap to prepare.
The unctuous filling is elevated by best fruit of the season. (Now's the time for peaches and blueberries.) This flexible recipe allows you to vary both the filling and sauce, using what's readily available. Feel free to come up with your own variations.

Ideal for a romantic brunch or surprising dessert wrap. Serves 2
1 cup blueberries (1/2 pint) or 2 cups strawberries (1 pint), halved lengthwise and thinly sliced
3-1/2 tablespoons sugar (or better yet, to taste)
1-1/2 teaspoon grated ginger
1 cup whole milk ricotta cheese, room temperature
1 teaspoon vanilla extract
Optional, when in season only: 2 small ripe nectarines or peeled peaches, sliced
2 small taco size flour tortillas
1 teaspoon unsweetened butter
2 tablespoons sliced almonds, optional
1. Combine the blueberries or strawberries, 2 tablespoons sugar (or to taste) and l/2 teaspoon ginger in a small sauce pan with 2 tablespoons water. Heat, over medium high heat, stirring frequently, just until some of the blueberries burst or strawberries soften and a sauce forms. Add up to 2 tablespoons extra water, if necessary. Reserve. (You can serve strawberries raw, if you prefer. Just let them sit in the sugar for 20 minutes or until they form a bit of a sauce and serve as is or mash with a potato masher if you like.)
2. Mix the ricotta, vanilla, l sliced nectarine or pealed peach (If it is in season), l-1/2 tablespoons sugar, and l teaspoon grated ginger.
3. Place 1/2 the filling in the center of each tortilla. Carefully fold in the sides and roll, tucking in the ends carefully. (If you prefer, you may heat the tortillas to make them more pliable, but if you are careful, it isn't essential.)
4. Heat the butter over medium heat in a large non-stick skillet. Carefully add the blintzes seam side down and cook, until well browned on both sides and warm all the way through, about 2-4 minutes on each side. Add the nuts during the last minute of cooking, stirring frequently to prevent burning.
5. To serve, place a blintz in the center of each plate. Spoon the berry sauce over. Sprinkle with the remaining nectarine slices, if you are using them, and the toasted nuts, if you are using them. Serve immediately.
Tip
If you're making lots of blintzes, these can be made in a very hot pre-heated oven on buttered parchment paper.
Query
If you can find fresh local ricotta near Northampton, MA, please let me know where!
Pick your own fruit in the Berkshires or anywhere you live.