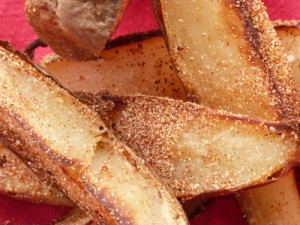 One of my favorite recipes —Roasted potato wedges —  at this link or simply improvise below with directions below.
More spuds? Sure!  Simple culinary improvisations are like love letters to their ingredients. On a winter day, no ingredient deserves that love more than the potato. Here are some of my favorite classics for the tuber that nourishes even the chilliest locavore right through this season.
Where to find 'em? My local farmers market in Northampton has them and so does yours. Many food coops and winter CSAs still have them too.
5 simple potato improvisations that satisfy
These open recipes allow you to shift portion sizes and seasoning ingredients to your taste.
Potato cooking hint?
This is no occasion to hold back: potatoes love salt.
1- Roasted Rosemary Potatoes
Cut waxy or flaky potatoes into similar sized chunks with their skins on. Toss with olive oil, kosher or sea salt, freshly ground pepper and fresh or dried rosemary (not too much rosemary). Roast in preheated 425-degree oven on a baking sheet, shaking once or twice, until nicely browned on the cut ends.
2-Garlic Mashed Potatoes
Peel baking potatoes and cut into a large dice, keeping the pieces about the same size. Boil in generously salted water until about half cooked. Throw in pealed garlic cloves, 1-2 per potato, depending on how garlicky you like it. Continue boiling until the potatoes and garlic are soft. Drain. Mash — adding milk or cream or butter or all three, as well as salt and pepper  — until you reach desired taste and texture. (Tip: Some folks love red potatoes for this, as you don't have to peel 'em. Optional: Add Parmesan, but salt to taste after adding it.)
3-Warm German Potato Salad
Steam small whole waxy potatoes, such as red bliss, over generously salted water until they can easily be pierced with a fork, but aren't falling apart. Halve or quarter. (Or for a denser, starchier salad, peal and dice russets.) Meanwhile, cook a few bacon strips, adding some thinly sliced red onion. Sprinkle warm potatoes with the crumbled crisp bacon and onion mixture, adding some of the fat if you like. Gently toss with white wine vinegar, chopped dill, grainy mustard and plenty of salt and pepper — all to taste. — so that salad is tangy. Add a touch of sugar, if you like.
4-Country Potato-Leek Soup
Cover diced potatoes and leeks in chicken or vegetable stock (or water if you have neither). When they are soft, add a pat of butter, plenty of salt and pepper to taste and more liquid if needed. Optional: Add chopped parsley or any greens at the last minute.
5- Baked Potatoes 2 ways
With Cottage Cheese and Scallions: Poke baking (Russet) potatoes with a folk. Roast at 400 degrees until cooked through, about 45 minutes. Cut off their tops, lengthwise, then scoop out their middles, leaving the skin with about 1/4 inch of the "meat". Mash with fork, adding cottage cheese (or ricotta), chopped scallion greens and plenty of salt and pepper to taste. Stuff the potatoes. Return to oven and bake until piping hot. This is light. Like it richer? Add butter or sour cream to the mash. Sprinkle with cheddar or any cheese before baking. Love greens? (I do.) Add chopped steamed greens to the mix.
Roasted potato wedges: For left-over baked potatoes. Cut in half lengthwise and then into 4-5 wedges. Sit on a baking try, face up. Brush with olive oil and sprinkle with a mixture of your favorite spices, such as paprika, onion, garlic and chili powder, salt and pepper. Bake in 425 degree oven until browned and crisp.
Bonus: Don't you love breakfast for dinner? I like to boil pealed dice potatoes with the best roots around, like celery root, carrots, sweet potatoes, diced as well, until a little under cooked. Then I drain 'em to keep on hand to fry up for root veggie hash. Cooking up onion in some olive oil, then adding the roots to a cast iron pan over high heat, turning frequently until nice and brown, and sometimes adding spices, like cumin seeds, garlic powder, or whatever is on hand. (If you want 'em super brown you can add some butter.) Serve under poached eggs for dinner with a splash of hot sauce.