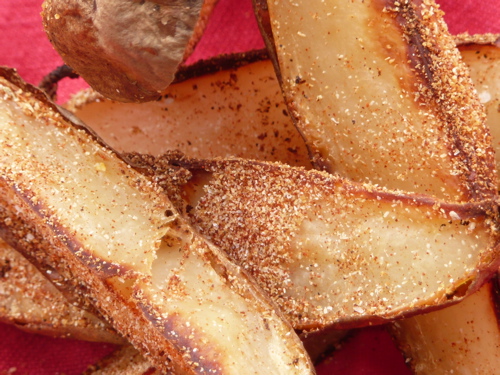 My husband, Tommy, who at times I affectionately call "Mr Potato head,"kindled my passion for potatoes early in our 26 year marriage. Half Irish Catholic, half Irish Protestant, he grew up eating potatoes at every meal. These days, we often roast 5 pounds at a time for the two of us to keep on hand to reheat as a snack or side dish. Here's the perfect recipe for 'em: bake whole, wedge, sprinkle with spices, then roast until crispy brown, aromatic and piping hot.
Here, I sprinkled spuds with spices reminiscent of diner breakfast home fries during my Manhattan years. But feel free to experiment with chili powder, cracked pepper, smoked paprika or spices in the curry family, such as cumin and coriander. I have, and you can't go wrong!
Note: This recipe is a snap even if you figure in the time to bake and cool the potatoes.
4 russet potatoes (or about 2 pounds)
2 teaspoons garlic powder
2 teaspoons onion powder
1 teaspoon paprika
1/4 teaspoon cayenne pepper
Kosher or sea salt or to taste
1/2 teaspoon rosemary
1. Preheat oven to 450 degrees. Stab well-scrubbed potatoes with a fork and bake, whole, until cooked, about 50 minutes. (You can do this in a microwave if you must, but make sure you the roast the spiced potatoes wedges in the oven so they'll crisp.) Cool for at least 4 hours, preferably overnight.
2. Halve the potatoes lengthwise, then cut each half into 4-5 wedges each, depending on the potato size. Place the wedges, skin side down (like boats), on a large parchment covered baking sheet in a single layer, with a little space between each.
3. Mix all the remaining ingredients, adding 1 teaspoon of salt, crushing the rosemary in your fingers before adding it. Sprinkle evenly over the wedges. Then sprinkle them again with the spices that end up on the parchment, but don't worry if some are left behind.
4. Bake until until hot, crisp and well browned, about 25 minutes. (Better over than under.) Taste and sprinkle with extra salt if needed. Serve immediately while they still retain their crispness.
Beyond Tater Tots?
Donna Miner, at Chicopee High School, where I tested many recipes for my Massachusetts Farm to School Cookbook, came up with a version of this recipe to answer the question: How do we cut down on processed French fries? The wedges, which are made with real potatoes and no fat, provided a sane answer that the kids adore, and so I included them in my book.
Film Farm Feast
For those that live in Berkshire County, there's Farm Film Feast next week. For those that don't, check out the listings, as it's likely these films will come your way or you can rent them. Included are a dozen documentary films about our food: Who produces it, how it reaches us, and how it affects our health, our environment, and our local and global communities.
Sad News
Terry Maloney of West County Hard Cider in Colrain, Massachusetts has died in a freak cider processing accident. Terry and his wife Judith helped revive quality hard cider making in this country. I first met them years ago when I was director of Berkshire Grown and was touring members farms. Colrain was remote, but West County was worth the journey. I was taken with Terry's profound knowledge and later with both the Maloney's good cheer and generosity when they donated endless bottles to fundraisers to support local farms. Terry will be sorely missed and our hearts go out to Judith.