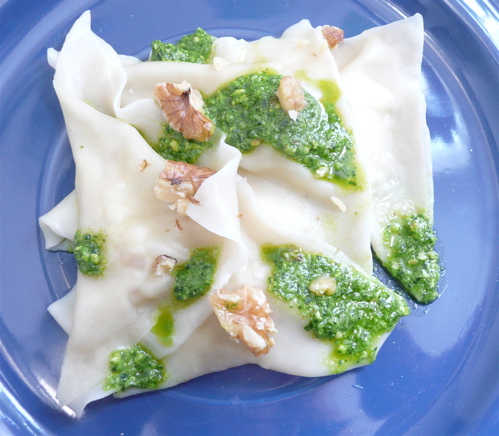 The world-on-a-plate food can easily go awry in the wrong hands. But this fusion dish works fabulously even though it combines the classic potato and celery root duo in a Italian ravioli using Asian wonton skins. Go figure. Serves about 6
Tip If you make this Smashed Potatoes and Celery Root recipe, you can use the leftovers in this ravioli filling. Do do so, you'll need about 1-1/2 cups of the leftover smashed vegetables, but mash them better so they are pureed. To use them for the ravioli filling, just add the cheese, assemble the ravioli and top them with the pesto as described in this recipe. (Omit the chive butter in the "smashed recipe." You won't need it.)
For the Ravioli
1-1/2 pounds russet potatoes
1/2 pound celery root
1/2 teaspoon kosher salt
Freshly ground black pepper to taste
2 ounces flavorful semi-soft cheese, preferably local
Wonton skins (buy 2 packages, you'll use more than one, but not two)
For the Parsley Pesto and Garnish
1 clove garlic, minced
About 1/2 bunch parsley, finely chopped
1/2 cup of toasted walnuts, finely chopped
2 teaspoon finely chopped scallion greens
2 tablespoons oil
1-1/2 teaspoons melted butter
1-1/2 tablespoons water
Pinch sugar, optional
1/2 cup of walnuts, coarsely chopped
1-Peel the potatoes and celery root. Cut the potatoes into quarters and the celery root into 1 inch chunks. Add to small saucepan covered by 1-2 inches of water. Cook, partially covered, over high heat, checking occasionally to make sure the water hasn't completely evaporated. When the vegetable are soft, about 25 minutes, drain whatever water is left well. Mash with a potato masher until pureed or put through a food mill. Add the salt, pepper to taste, as well as the cheese. (If they aren't perfectly pureed, don't worry.)
2-Make the pesto. Combine the ingredients in a small bowl, except for the last 1/2 cup of walnuts. If you want a smooth pesto you can use a small food processor or blender to blend it more thoroughly. Set aside.
3-Assemble the ravioli. Keep a small bowl with water in it near your work area and a baking sheet lightly dusted with flour. Lay out 4 or 5 wonton skins on your work counter. Drop a teaspoon or a little more of the filling into the center of each. (I use a teaspoon and a finger to drop them or you can use two spoons.) Moisten one thumb in the water and run it along two adjacent sides of the wontons. Fold each wonton over to make triangles, using both thumbs to FIRMLY seal the ravioli. Set onto a lightly floured baking sheet. Repeat with the remaining filling and wonton skins.
4-Bring a large skillet or wide saucepan of water to a light simmer, never letting it boil rapidly. Cook the ravioli in batches at least two batches they float to the top, about 3-4 minutes. Remove gently with a slotted spoon to a warmed plates. Drizzle with the pesto. Sprinkle with the coarsely chopped walnuts and serve immediately.
How to Serve Three ravioli make an elegant first course. I like them as a vegetarian main course before or after something green, like braised greens.
Good Food News
Urban Farming — Check out this fun play on truck farming in the city.

Advocates for Federal Policy
I'm a firm believer that local grassroots movements can make huge changes from the bottom up, but we've got to work from the top down too. The National Sustainable Agriculture Coalition (NSAC) is an alliance of grassroots organizations that advocates for federal policy reform to advance the sustainability of agriculture, food systems, natural resources, and rural communities. They're a great website to keep you abreast….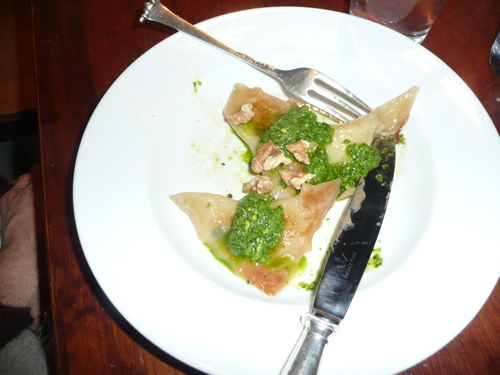 I experimented on my guests for movie night, when I invented this recipe, browning the ravioli in a pan then pouring in a little water to steam them.
They were a hit, but are lighter and stay hotter as prepared in this recipe, gently simmered with no oil.