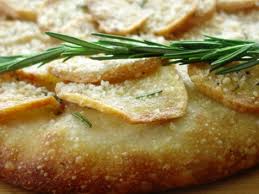 Last of the local potatoes anyone?
This is a lazy person's pizza, made with store-bought dough, last of the local potatoes and coarse cornmeal from a regional CSA. It's a starch lover's dream come true; potatoes and bread, seasoned with dried Italian herbs from the garden and a touch of local cheese. (I like Alpine from Hawthorne Valley Farm, but any good strong cheese works well.) Makes 4 servings
Note: This recipe is from my first book, now out-of-print, One Pot Vegetarian Dishes, which is still available for next to nothing from Amazon as this link.  (Great recipes, if I do say so.)
l pound frozen pizza, defrosted*
olive oil
3 tablespoons corn meal
l pound unpeeled potatoes, sliced very thinly
l tablespoon olive oil
l teaspoon dried rosemary**
l/4 teaspoon dried sage**
l/4 teaspoon dried oregano**
l/2 teaspoon salt
1/2 teaspoon pepper
l cup shredded flavorful cheese, or more to taste
l/2 red onion, sliced thinly
1. Preheat the oven to 475˚F. Adjust rack to the upper 1/3 of oven. Brush a baking sheet liberally with oil. Sprinkle evenly with coarse cornmeal. Using your hands, press the dough out with to evenly cover as much of the sheet as possible.
2. In a medium bowl, toss together the potatoes, oil, rosemary, sage, oregano, salt, and pepper. Pour the potato mixture onto the dough, using your hands spread or neatly "shingle" the potatoes, overlapping them as little as possible, and leaving a l inch border of dough all around. Sprinkle with the cheese and onion. Bake until the potatoes are cooked through and lightly browned, and the crust is crisp, about 20 minutes.
Recipe tips
*Homemade dough recipes abound, so make it if you like, but this recipe uses premade dough, defrosted from the supermarket or bought from a pizzeria. If it's frozen, defrost it by leaving it at room temperature for a few hours, or in the refrigerator over night. Trust me; it's still GREAT!
**I salt-dry my summer herbs in glass crocks. I dry them stems and all, but you can strip off the leaves and just dry them. Either way, both the herbs and the salt are tasty!
A few end of winter recipe links:
Winter Salad with Spinach and Beets
Connie's Apple Cake
Your grandma's fishcakes, revisited
Apparently US farmed Tilapia is considered OK by Monteray Aquarium, so I had some last night. Leftovers got become fishcakes. Pulse in food processor — cooked fish, scallion, cilantro, 1/2 thai chili pepper, egg, pickled ginger (love it) with a touch celery and salt. Form flat cakes. Dredge in lots of panko breadcrumbs. Bake or saute in olive oil until crisp and warm all the way through. Serve with hot sauce and lime wedges. Very easy and tasty. Link for sustainable seafood choices for the northeast is here.
Seed catalogs rolling in?
Margaret Roach talks about starting your sustainable garden with the right seeds. Link
Water is the "Food" Crisis of our Time!
Water is the ultimate "food" crisis of our time. What's the next generation up to? Nick Friedman, the son of dear friends, has opened a biz that filters existing water for businesses, so they don't have to go the bottled water route. Why not use your own clean LOCAL water:) Here's a link to his business.
Improvised Goat Cheese-Chocolate Truffles
An alternative truffle using local goat cheese anyone? An idea that will probably work well:) Mix ½ soft goat cheese at room temperature with 1/2 melted chocolate, adding just enough confectioner's sugar to bind it, along with a drop or two of vanilla. Roll into balls. Roll in a combination of cocoa powder with a pinch of cinnamon and a pinch of chili powder….
"Clean" Meat Clubs are taking hold.
Here's another one with deliveries in Westchester and a newsletter that my colleague raves about. Link.