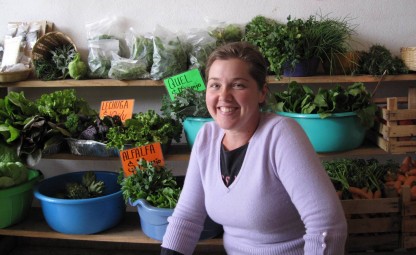 Maya Lucas with organic produce at her store, La Bodega Organica,which opened last spring in San Miguel de Allende, Mexico.
After reading about the Good Food Cafe here, you might have been curious about the other half of the local food compound in San Miguel de Allende, Mexico. The local food movement is comparatively new there, and it's still possible for someone young (or young at heart) to start a local farm or food business on a tight budget. Pioneers like Maya and her husband Luc have helped pave the way bringing sustainably raised food to San Miguel.
What inspired you to start the store?
We wanted to create community while growing organic food here.

How do your products differ from others sold in San Miguel?
The prices are usually lower and we harvest almost daily.
Who are your clientele?
Friends, local neighborhood folk, people who live outside town and drive in, and of course a few supportive ex-pats.
Where do you want the store to be in 1 year, 5 years?
Right now we grow about 1/3 of what we sell, buying in the rest of the organic produce. By the end of 2014 we hope to grow as much tw0-thirds. We do not just want to be middle-men, and that way we can offer lower prices too.
How does what you do relate to the Good Food Cafe?
We are good friends, who divide our space and rent our businesses side by side. We sell them our produce and eat there all the time. The urban garden that I maintain provides the decor for the cafe seating in the outdoor patio. (Geneva, neighbor, friend and co-owner of the cafe says, "It is inspiring to see the bins of fresh herbs, fruits and vegetables that our good friends, and other local farmers grew. Everyday there is something new to add to a soup, or salad. You can really taste the quality in the simplest of dishes.")

What are your favorite things to do with your ingredients that don't require recipes?
Invite friends over and improvise!
Update!
Things are looking up!  Our the store sales have just about doubled in the last week in part thanks to the extra publicity from the urban gardening series…The urban course, talk at library and tour filled up and we are having to run a second course and tour… 
I am also installing a $4,000 urban garden with an automated drip system…This is helping us finish the front end of our house. We are going to have a living room by the time my mother-in law comes in two weeks!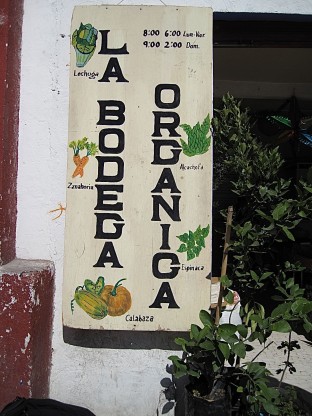 About: The store's sign with the hand painted veggies I love….
Below: Sign from the organic Saturday market in San Miguel, where Maya sells her produce. (The gorditas there were fabulous.)