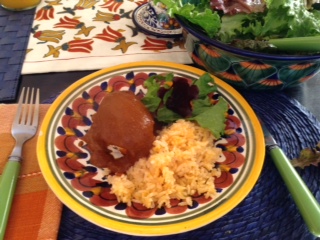 The tasty mole prepared by Margarita Granado made in Honey Sharp's kitchen in San Miguel de Allende, Mexico.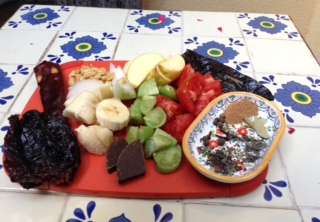 Mole ingredients (both pictures by Honey Sharp)
Years ago I made turkey mole from scratch. It took me the better part of the day, with results that didn't seem to quite match the effort. (Or at least my guests didn't think so. )
This quicker version makes plenty of tasty red mole sauce — complex, a touch hot, fruity with the dark flavor of chilies — which can be used over anything that moves you. Like her grandmother, Margarita, prepares it using mole paste from the market as the recipe's core, then doctoring it with local ingredients to give it depth.  (You can find mole paste at many Latino food stores or on line.)
It was served over poached chicken breasts, which was delicious, but I might prefer it with turkey, chicken thighs or pork — poached, grilled or roasted — because they would stand up to the sauce's intense multi-dimensional  flavor. (Note. Make it ahead, as the sauce gets better over several days.) Serves 8 or more (easily halved)

Chicken
8 chicken breasts or 16 thighs, skinned and boneless or with bone in
salt
1 carrot, sliced
1/2 onion, sliced
2 garlic cloves, sliced
Mole
3 dried peppers: 1 pasilla, 2 cascabel, 2 ancho, all seeded and steamed1 slice of onion
1 tomato, quartered
1 tomatillo, quartered
1/4 banana, sliced
1/4 apple, pealed and sliced
About 3 ounces chocolate, divided
1/4 cup peanuts
1 clove garlic, chopped
About 1-1/2 tablespoons flavorless oil
About 3 ounces of Mexican chocolate (or dark chocolate with pinch of cinnamon)
About 1-1/2 cups prepared red mole paste
4 – 5 plain crackers
Pinch cloves whole
Pinch marjoram
3 whole allspice
1 small bay leaf
1 teaspoon ground cinnamon
salt to taste, if needed
1-Assemble all the mole ingredients.
2-In a pot, cover chicken with about 1-inch of salted water. Add the carrot, onion and garlic. Cook, covered, at a low simmer until done all the way through, about 20 minutes. (Check if you need to!) Turn off heat.
3-While the chicken is cooking, saute the peppers on both sides in a dry pan. Remove to a bowl and cover with water. Reserve for later use.
4-Cook the onion, tomato, tomatillo, banana, apple, peanuts, and garlic in the oil . Cook over medium heat until soft, stirring frequently, about 3 minutes. Add about half the chocolate and stir.
5-Add the cooked ingredients, drained and sliced chilies, chili paste, crackers, herbs and spices, and half the cinnamon to a blender. Blend with just enough stock from the simmering chicken to allow smooth blending.
6-Strain the sauce into a pot, pushing down on the ingredients to extract their goodness. Simmer for about 10 minutes, adding the remaining chocolate and cinnamon to taste. (Add salt, if needed, a touch more of stock if the sauce is too thick.)
7-If you used bone-in chicken, remove the bones. Serve chicken covered with sauce, accompanied with plenty of rice. (Remember, this sauce gets even better over the next few days…)