Merry Christmas from Mexico….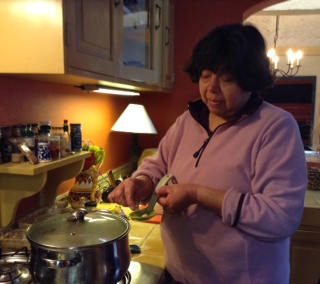 Margarita Granado checking on the hominy in Honey's welcoming pale yellow kitchen.
Guest post
This comes from Honey Sharp, via Margarita Granado, who graciously showed us how to prepare her grandmother's terrific version of Pozole, a traditional hominy soup. (For more, scan down to green.)
The Recipe
A Mexican soup for a cold day or just to warm your tummy and your palette. Its basic ingredients: hominy, poblano peppers, and chicken stock. Spices such as cumin and cilantro jazz it up and garnishes are a must. There are many versions — such as a pork base with red peppers — but I love this bright and subtle green one. Serves 8 people
Ingredients
3-5 chicken pieces, white or dark, with bone*
2 cups hominy**
1 large sweet onion, quartered
3 garlic cloves, sliced (or more if you like)
2 large poblano peppers
A generous handful of cilantro and celery leaves
A dash of cumin and oregano
Salt
Garnish
About 1 cup of diced radishes
About 1 cup of sweet onion, diced, or sliced scallion, whites and greens
About 1 cup of cilantro leaves, or 1/2 cup coarsely chopped
8 lime wedges
*Chicken parts may be replaced with a flavorful chicken stock
**Here the hominy came in a plastic bag. In the use try to pick it up dried. Last choice, canned.
1) Simmer the chicken and hominy, onion and garlic in 3 quarts of water for about 1 hour, or until the chicken is very tender. Remove the onion and chicken. Discard the onion and chicken bones. Shred the chicken and reserve for the soup. (If the hominy isn't quite cooked, simmer until slightly al dente.)
2) While the stock is cooking, roast the poblanos directly on a gas flame, turning occasionally, or in a broiler. When blackened, cover with a kitchen cloth to steam. Slice in half lengthwise and remove the stem, seeds and burned skin. Slice. (See picture below.)
3) Add poblanos, cilantro and celery leaves, cumin, oregano to a blender with just enough water for smooth blending.
4) Add to the cooked stock. Cook another 20 minutes. The soup is ready when the hominy is soft but not mushy. (Think of pasta al dente.)
5) Before serving, add salt to taste and the shredded chicken. Ladle into bowls and let diners help themselves to the garnishes.
Note: This can be made with a flavorful vegetarian stock and cubes of tofu to replace the chicken.
A Few Comments on Honey's Guest Post
Honey Sharp — http://honeysharp.com — is avid gardener, landscape designer and writer, who divides her time between Berkshires, MA and San Miguel de Allende in Mexico, where I'm staying for the month, as usual.
Currently, as we're both in San Miguel,  she invited me over to make a version Pozole with her housekeeper, Margarita, a fine cook. .It's unusually rainy and cold here, but happily the  local ingredients morphed into a back-to-the-womb kind of soup that my Jewish grandmother would have made if she's been Mexican.
Years ago, I'd developed a chunky pork version of pozole for the Joy of Cooking, but this is even better. Perhaps that's because the flavors are local — fresh from our trip to the farmers' market. Also, this hominy was tastier than the canned variety I'd used. (In the US, try to pick up dried hominy, often available at Mexican markets.)
Of course, all cultures have savor comforting soups, and this one really warmed the soul as well as my wet feet. Feel free to concoct your own version with whatever is on hand. I plan to add local vegetables to mine once I get home, and will try a tomato-based version next summer, maybe mixing hominy with fresh corn and adding a touch of smoked paprika for mystery.
Let me know what you come up with!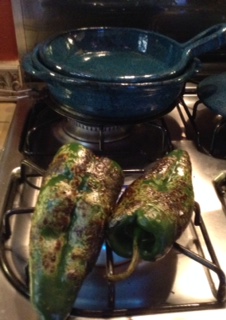 Roasting the poblanos direction on the gas flame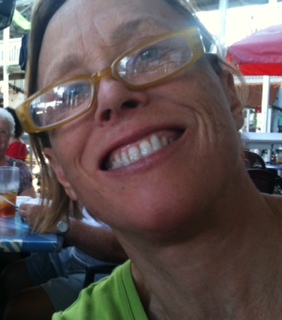 Otherwise elegant Honey looking kinda goofy:)