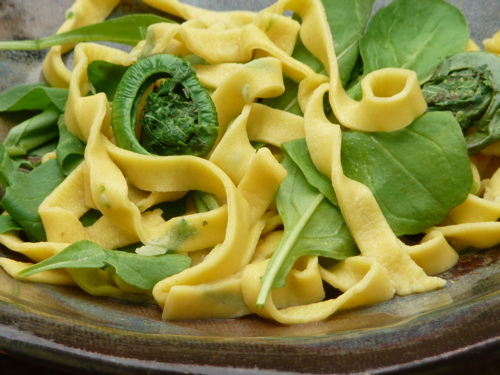 Fresh Chive Noodles with Arugula & Fiddlehead Ferns (More variations below)
On Sunday, my 8-year old niece, Sadie, and I popped over to my neighbor Ruth's place to visit her parrot and chickens  and pick up a dozen fresh eggs. Black and white with deep red beaks, Ruth's hens pecked grain out of Sadie's small hands, while the rooster crowed and pranced about in this blue-black feathers. Now that her birds are outside in the Spring, foraging as well as eating locally grown grains, their eggs taste even better, more distinctive, with their rich orange yolks.
At home, we made egg pasta with garden chives, Sadie giggling as the wide flat noodles magically rolled out of my hand-cracked pasta machine.  She wolfed down hers tossed with butter and cheese, pronouncing them, "the best pasta ever."  (No doubt, her pleasure was enhanced by their back story and a cook's pride.) I tossed mine with fiddleheads and Equinox Farm's baby arugula for a more adult version, but I liked them both ways equally. See more variations below. Serves about 4, easily halved
The pasta
2 large eggs
About 1-1/3 cups all-purpose flour
1 tablespoon olive oil, optional
1 tablespoon chives
Just to coat
Butter and a grated hard or fresh cheese
Or
Olive oil with a little garlic simmered in it
Early spring things, variations below
1-Add the flour and eggs to the food processor, with the optional olive oil, if you are using it. Pulse JUST until it combines into a ball, but not more. Turn onto lightly floured work surface and knead for about 3-5 minutes, until smooth and elastic, adding a touch of flour if needed only to prevent sticking. Wrap and chill for 30 minutes to 2 hours.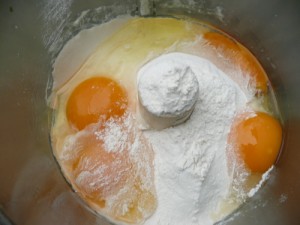 Making the pasta dough with fresh flour and eggs in the food processor
2-Cut dough into 4 equal pieces. Cover each well. Set pasta machine to widest setting. Flatten 1 dough piece into rectangle; run through machine, adding flour if necessary to prevent sticking. Fold in 3rds, press down with finger tips, and run through again, open side first. Do this 8 times.
3- Work with one piece at a time, feeding it through, adjusting machine to narrower settings, and dusting with flour as needed to keep from sticking, at the lowest setting. (Or next to lowest if you prefer a more rustic pasta.) Place each sheet on very lightly floured work surface or towel, covered with a cloth. Repeat with remaining pasta pieces.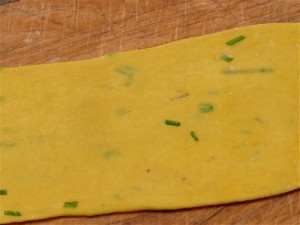 The rolled out chive egg pasta before it was cut into noodles.
4. Uncover sheets and let stand until slightly dry but still pliable, about 20 minutes. Fit machine with the thick noodle sized cutter and run sheets through, dusting with flour to keep from sticking if needed only. Cut noodles into desired lengths. With lightly floured hands, toss strands to separate; spread out on towels. (If needed, you can let these dry.)
5- Decide which variation you are using. Cook pasta in pot of boiling salted water stirring occasionally, until tender, 3 to 5 minutes. Toss with butter and grated hard cheese or fresh cheese, freshly ground pepper, just to coat OR with garlic oil (anchovies optional), just to coat. Salt and pepper to taste.
Variations —
*Cleaned fiddleheads thrown in during the 1-1/2 minutes of boiling
*Baby arugula tossed with warm noodles to wilt slightly.
*Fresh peas thrown in during the last 30 seconds of boiling.
*Pea variation with chopped crisp bacon or pancetta
* Asparagus tips and diagonally sliced stems added to the boiling pasta. Add fresh lemon juice to the toss.
* Slivered or chopped young braising greens, to the water right before draining the pasta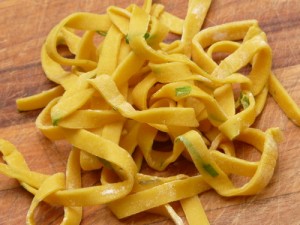 The chive noodles before they were cooked.
A few tidbits this week:
What role should government play in local food? Love to hear what you think.
A funny riff on the way America eats and why we're so fat.
Jamie Oliver's Food Revolution has helped wake America up to the tragedy of school lunches. If your school has lousy food, Oliver's site, Renegade Lunch Lady Ann Coopers' site, and my book, Massachusetts from to School Cookbook, which can be downloaded free from the lower right side of this link, are all great tools to improve school meals. And now it looks like Oliver wants to add farm fresh local food to his healthy food agenda, because last week his consultants called to my ask permission to use my recipes and link to my book. Cool.
Haston Free Public Library in North Brookfield, Massachusetts. Reading and signing of my new book, The Locavore Way. Part of a statewide community reading initiative, North Brookfield's is titled: READ!, GROW!, EAT! – a celebration of Local Food, Farms and Gardens.