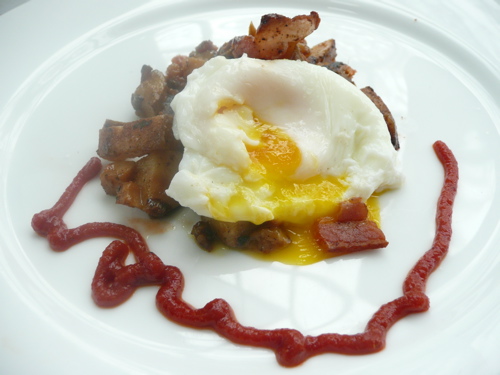 This local food combo was born of culinary desperation and cabin fever. After two days trapped in the house by ice and snow, I scavenged for supplies. But I've also made it in the early spring when not much is around, except for the last of the roots and farm fresh eggs, which are tasting even better, because the chickens are finally eating goodies outdoors.
This hash of roots topped with poached eggs is great on its own. A drizzle of ancho chili ketchup lends treble to the earthy vegetables and rich eggs, rounding out the works.
Heaven's when diner food meets local eggs, roots and bacon. Serves 4
Eggs 'n Hash
3 slices bacon, preferably local
1 medium onion, diced
2 cups diced unpeeled potatoes
2 cups mixed diced root vegetables, such as celery root, sweet potatoes, parsnips and carrots
1/2 teaspoon dried oregano or to taste
Garlic powder to taste, optional
Paprika to taste, optional
Salt to taste
4 eggs
Ancho Chili Ketchup (optional)
l dried ancho chili (3-4 inches)
1/2 medium onion, in two thick slices
l 10-ounce can of combined diced tomatoes and green chilies, drained
l tablespoon vinegar (cider, red or white wine), or more to taste
2 teaspoons sugar, or more to taste
Salt, optional
1-Make the Ancho Chili Ketchup, if you are using it, or skip to #2 if not. In a cast iron or non stick pan, toast the ancho chili over medium heat with the onion slices until the ancho is dark but not black, about 1-2 minutes on each side. (Reserve the pan)  Reserve the onion. Bring a small sauce pan with water to a boil. Drop in the toasted chili and reduce heat to a low simmer until it is soft, 2-3 minutes.  Drain. Remove stem and seeds and place in the blender with the onion. Blend. Add the drained can of tomatoes and chilies. Blend again until smooth.  Add back to the saucepan. Simmer over a low heat, stirring occasionally, for 5-10 minutes. Remove from heat and season with vinegar and sugar to taste.  (Seasoning depends on the flavor of your ancho. You are looking for a deep flavor that is slightly spicy and a tad sweet and sour.) If you like, add salt to taste. (*See below for more on the ketchup. It keeps!)
2-Preheat the oven to 180 degrees. Sauté the bacon in a large cast iron pan over medium heat until crisp. Chop and reserve. Add the diced onions, potatoes, root vegetables and oregano to the fat in the pan. Cook over medium high heat in one layer, stirring infrequently, until well cooked and well browned, about 10 minutes. Salt generously to taste. (If you are not using the ancho chili ketchup, add the garlic powder and hot paprika or cracked pepper to taste.) Mix the bacon in with the hash and add the whole pan to the oven to keep it warm. Place 4 plates in the oven.
3-Bring a pan with 3 or more inches of water to a simmer. Swirl the water. Crack an egg into a bowl or teacup. Gently drop it into the center of the pan. Repeat with the remaining 3 eggs. Simmer gently until the whites are firm and the yolk is still runny but not raw, about 3-4 minutes.
4-Divide the hash equally among 4 warm plates, which you should handle carefully. Remove the eggs with a slotted spoon to the top of each mound of hash. Pipe or spoon with some of the ketchup on the plate. Serve immediately.
Vegetarian? Saturated fat phobic? Omit the bacon. Use 2 tablespoons of olive oil instead.
Servings suggestions Great as is, but can be served with corn tortillas and/or sauteed winter spinach or kale.
*Ancho Chili Ketchup? This ketchup recipe makes about 1-1/4 cups, which is more than you need. But, leftovers keep for at least a week in the fridge and are great on everything.
Ingredients anyone? I know, for those of us in the north, the hunt for local food gets tougher when the ground is rock hard and the world white, white, white. But the local ingredients in this recipe are still available at winter farmers markets, farm stores and stands, right from the farm, or at coops and specialty stores. With local foods and a few smart pantry staples anything is possible. So stock up!
************************
Good Food News
Locavore Conservator: Eating Invasives
Invasivores have a simple solution to getting rid of undesirable foods, including weeds and fish. Eat them!
Health Leaders Call for "Healthy Farm Bill"
U.S. health professionals are calling on new leadership in Congress to make health a priority in writing the next Farm Bill. National health leaders, including Dr. Andrew Weil and Dr. Marion Nestle, have signed onto a "Charter for a Healthy Farm Bill." The charter's principles emphasize a food system that is healthy, sustainable, resilient, fair, diverse, economically balanced and transparent.
The American Farm Land Trust lays out intelligent recommendations for a more progressive farm bill.