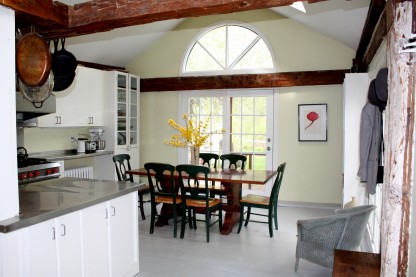 Boy will I miss my kitchen, which began as a total wreck.
I'll still be blogging, so please join me and spread the word. But changes are brewing.
In 1985 we bought an antique wreck of a house, our home. Here we raised our daughter, now 24, who toddled around our garden and planted peas with her stubby little fingers.
Over the years, my husband, Tommy, fixed everything, building me a perfect funky kitchen with loads of character. We shared lots of pot lucks there with dear friends and family.
Once we had a Greek themed pot luck where we roasted a lamb and everyone came as their favorite Greek god. One friend came as Zeus, a sheet draped around him with a little pocket in it with his business card, "Zeus." Another arrived as Jackie O, with a headsharf and dark classes.
I digress.
Next month my husband and I are moving to Northampton, which is about an hour away and much closer to his teaching job. It's also our chance to downsize, so that we can fulfill our dreams that include traveling the world while we're still young enough to do so. (More about that later.)