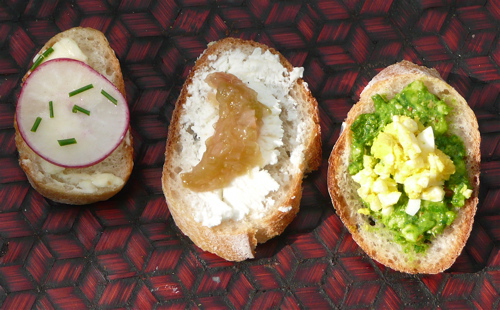 Now that goodies are popping out of the ground in rapid succession, it's time to lather toasted baguettes with everything local. So disobey your mom and play with your food. Fool with anything farm fresh, from goat cheese and sun-ripened berries in June to roasted butternut squash puree with fresh sage in October.
I made these three tasty variations with what was on hand here — sweet radishes and young arugula from the market, rhubarb from my garden and goat cheese from Rawson Brook Farm. (Undoubtably you have a goat cheese farm in your region.)
Serve these either solo or as a trio with drinks after work to stave off hunger pangs until a late supper. We savored them outside on a lazy spring evening, surrounded by greenery and buoyed by the late evening sun.
Each recipe makes about 12 bruschette, serving 2-4 before dinner.
Goat Cheese & Rhubarb Chutney Bruschette
There were two old rhubarb patches in the backyard of my old home when I bought it 30 years ago. So, I was always looking for things to do with my tangy crop. I often made tons of simple chutney and froze it in ice cube trays to enjoy as a condiment with cheese. Delicious.
About 1 cup finely diced rhubarb (1-2 stalks)
1-1/2 tablespoon finely chopped shallot or onion
2 tablespoons sugar
1 teaspoon coarsely grated ginger, packed
1/2 teaspoon cider vinegar
pinch of kosher or sea salt
12 slices of baguette
1/3-1/2 cup fresh goat cheese, room temperature
1-Slice rhubarb lengthwise 2-4 times, depending on its thickness, then across its length into a small dice. Measure 1 cup. Toss into a 2 cup glass measuring cup or small pot with the shallot or onions, sugar and ginger. Microwave or cook in a small pot over medium heat, stirring once or twice, until the rhubarb is soft, 1-2 minutes. (It's nice if it still holds it shape, but don't worry if it doesn't.) Stir in the cider vinegar and salt. Set aside at room temperature or chill. (This can be made several days ahead of time if you wish.) If the chutney is watery, spoon off extra liquid.
2-Assemble just before serving: Toast 12 baguette rounds in a toaster or the broiler, turning once, until slightly crisp. Spread with goat cheese and top with the chutney. Serve immediately.
Spring Radish & Anchovy Butter Bruschette
This spring I seem to be tasting the classic combo of radishes and butter everywhere I go. The rich butter and crisp, slightly tangy radish complement each other perfectly. Spring radishes are ideal for this, as they can be overpowering and even bitter when it gets hot. And the anchovy gives it some salty style.
2-3 radishes
About 1/4 cup unsalted butter, room temperature
4 anchovies, preferably salt-cured, rinsed and finely chopped or 2 teaspoons anchovy paste
12 slices of baguette
1 teaspoon chopped chives
1-Thinly slice radishes and soak in ice water. Mix the butter and the anchovies or anchovy paste in a small bowl to combine.
2-Assemble just before serving: Toast the baguette rounds in a toaster or the broiler, turning once, until slightly crisp. Spread each with the anchovy butter. Blot the radishes dry. Top each bruschetta with a radish round or two. Sprinkle with the chives. Serve immediately.
Arugula Pesto & Egg Bruschette
Enjoy the yin yang both in color and flavor — gentle farm eggs top the alert taste of arugula pesto. You can often find local eggs in the usual spots, like your local coop, farm stand or farmers market. Look in unlikely places too. I've spotted them in a bookstore and gas station. These local eggs were a happy surprise from my walk-away store, Serio's Market in Northampton.
2 hard-boiled eggs, peeled
Pinch salt or to taste
Very generous handful of fresh arugula leaves
3 tablespoons oil, or more to taste
2 tablespoons whole unblanched almonds
1 ounce hard Parmesan style grating cheese
12 slices of baguette
1-Chop the eggs by hand or pulse briefly in the food processor. Add a touch of salt to taste.
2-Add the arugula and oil to a food processor and pulse until well chopped. Add the almonds and cheese. (If the cheese is already grated, stir it later.) Pulse them all until coarsely chopped. Add salt to taste, if needed.
3-Assemble just before serving: Toast the baguette rounds in a toaster or the broiler, turning once, until slightly crisp. Spread the pesto on the bread. Top each round with a spoonful of egg. Serve immediately.

No Farms, No Food
Losing Farmland, State by State
Every minute of every day we lose two acres of farm and ranch land to development. Updated information on farmland loss during the last 25 years is in—with Arizona, Nevada, New Mexico, New Jersey and Massachusetts topping the list of states losing the greatest percentage of prime farmland. Find out more about protecting our farmland at The American Farmland Trust.
One way to work on making your town farm friendly in Massachusetts is to join insure your town has a "right to farm" provision and to support your town's agricultural commission. For more information contact Peter Westover: westover03@comcast.net