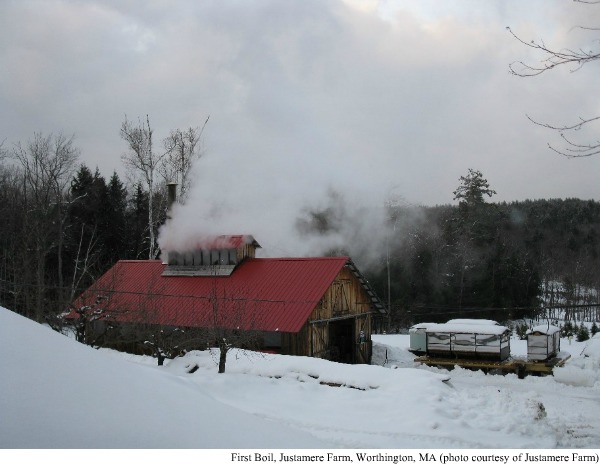 Can you believe the weather? Not like the typical March sugaring scene pictured above.
Still, March is the best month to gripe about the lack of local food. Last of my winter roots, beautiful beets from Farm at Miller's Crossing, are almost gone. The ground is moist but devoid of edibles. Yesterday I planted rainbow chard, sugar snaps & mesclun. But nothing's up yet.
Happily, there's always maple syrup.
In This Issue:

It's sugaring time: A talk about maple syrup to get you cooking
Whole Wheat French Toast with Maple Syrup, Apples & Cranberries
March is Join a CSA month
Dig In! A conference in the north country
Berkshire Grown Maple Dinner
It's sugaring time
A talk about maple syrup to get you cooking
(Press arrow to listen)

A few tips to add to the talk:

Feel free to use syrup for fancier stuff too. Try it when you deglaze the pan for a sauce for duck, or prepare maple ice cream with aromatic spices or sieved blueberry puree.
Adding in small amounts maple syrup can lend the sweet taste of the wild. But don't over do it!
Read labels and try buy maple syrup from a farm nearest to you. Small regional farmer have a tough time competing with the big businesses, as ever….
Recipe Link
Whole Wheat French Toast with Maple Syrup, Apples and Cranberries. Yum.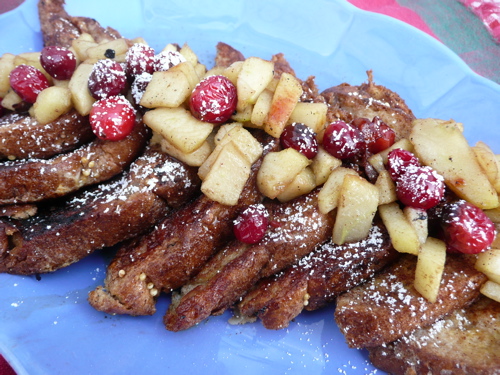 March is join a CSA month
Scroll down to this link: Type in your zip code and find a great Community Supported Farm near you, where you can buy a share of a farm's harvest each week. (Some require pick ups, others deliver.)
Some CSAs let you split a share, include pick your own options, like cherry tomatoes or flowers, or barter farm work for shares. Others offer add-ons from neighboring farms, such as additional fruit, egg or bread shares.
CSAs are an ideal way to understand where your food comes from first, while enjoying the best sustainably raised fresh fresh food . Besides, it's fun.
Fun to read about local food events —
Is Ketchup Really A Vegetable? Dig In! A new local food conference
Check out the fabulous conference where I keynoted on March 19, Link:Dig In! Food and Garden Conference at the Clarkson University Student Center in Potsdam, New York.
This unique conference focused on organizational-level programs and practices that change our food system. Participants included school food service staff and administrators; business owners & employees; non-profits; extension agents and agricultural organizations; county government; community leaders & residents; and health & food-focused professionals. Links: Download Schedule.
Maple Dinner Anyone?
Love maple syrup? On March 26th, Berkshire chefs here in Western Massachusetts, celebrated the first harvest of the season with a Maple Dinner. Link: For menu