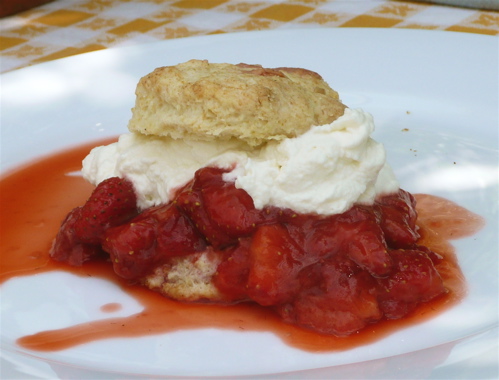 After my our annual strawberry picking at Ioka Valley Farm, our favorite feast is strawberry shortcake — warm, dense biscuits topped with juicy ripe berries and fresh whipped local cream from High Lawn Farm.  I sometimes plan ahead, making biscuits before we pick, then storing them, uncooked, in the freezer on parchment-lined sheet pans. That way, they're ready to pop into the oven for an ideal strawberry shortcake supper on our return. It's our once-a-year dessert-for-dinner meal. Makes 12 shortcakes, about 6 generous servings
Warning: The season for local berries short. So savor them on and in everything until you're satisfied, then wait until next year's harvest to enjoy the real thing again. (And bring your kids to show them firsthand what fresh food's all about.) Here in the Berkshires find pick your own farms, farm stands and farmers markets at Berkshire Grown. Otherwise, to find a Pick-Your-Own Farms, which are often called U-Pick Farms:visit PickYourOwn.org
Berries
3 pints local
strawberries (or any local berry)
Sugar
Biscuits and cream
2 cups all purpose flour
2 to 4 tablespoons sugar
1 tablespoon baking powder
1 teaspoon salt
1-3/4 cup heavy local cream
4 to 5 tablespoons butter, melted
l. Preheat the oven to 325°F.
2. Hull (or cut the tops from) the strawberries. Slice thickly. In a medium bowl, mash slightly with a potato masher or large spoon until very coarsely chopped. Stir in sugar to taste and set aside.
3. Sift together in a medium bowl the flour, a heaping tablespoon of the sugar, baking powder, and salt. Add 1 cup of the cream, then mix the dough with your hands or a rubber spatula. Knead no more than a minute, just to bring the dough together. Turn the dough onto a lightly floured board or counter. Pat it into a square about ½ inch thick. Cut the dough into 12 squares or use a biscuit cutter to cut 12 rounds.
4. Cover a baking sheet with parchment. Pour half of the melted butter onto the baking sheet. Place the biscuits on top, and pour or brush the remaining butter over each. Bake 12 minutes, or until the tops just begin to brown.
5. While the shortcakes are cooking, with a hand whisk or an electric beater set on high, whip the remaining cream just until it forms soft peaks, seasoning it to taste with a touch of the remaining sugar.
6. Split the biscuits gently by hand or with a fork, and place on 6 plates or in 6 shallow bowls. Top the bottom halves with the berries and whipped cream. Place the second halves on top. Or let diners prepare their own feast. Eat immediately!
In Praise of Traditional Foodways
With everything, including food, Americans emphasize and admire the new — new dishes, new ingredients, new chefs. And, truth be told, I was once swept up in the fray, still like to create dishes, and I'm often impressed by new dishes born in our restaurants. But the more I cook, the more it feels like the  classic combos taste best, better in fact, especially when I cook them with locally sourced farm-fresh ingredients.
Traditional seasonal dishes, like these shortcakes, have been tested through the ages and they hold up. But, we've lost touch with their seasonal flavors. Sadly, we associate shortcakes with sodden supermarket spongecake and cardboard tasting berries, topped with a spray of canned cream. In the 21s century, rediscovering traditional food combos, like these shortcakes, feels fresh and tastes shockingly good.
Local Food Goodies
Do something now. Want to keep informed and do something tangible about improving our food system, often from your own computer at home?  Check out the sustainable food section of Change.org
Like more worldly perspective? One of the best books to read is: Stolen Harvest by Vandana Shiva, which charts the impacts of industrial agriculture and what they mean for small farmers, the environment, and the quality and healthfulness of the foods we eat.  Stolen Harvest is a short, impassioned, and inspiring book that will shape the debate about genetic engineering and commercial agriculture for years to come.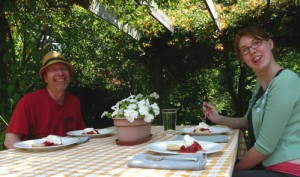 My husband, Tommy, and daughter, Emma, under the honeysuckle vines in our backyard.