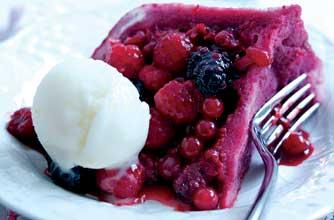 It's nine million degrees inside and out, and I'm awash in berries from my neighbor, Jim, who set us loose on his raspberry patch. Then there's the black cup raspberry bush next to our bulkhead that's laden with more berries, which I can't leave to the birds.
So oodles of berries are fading fast in my fridge. I could make jam, but Summer Pudding's more festive and requires 2 minutes of cooking, leaving the kitchen cool. Or at least not hotter. It's easy to make by lining a bowl with bread, filling it with syrupy berries, then weighing them down to soak overnight. Invert and slice this essence-of-berry-dessert, which will last a week in your fridge.
Accompany with local ice cream or whipped cream. Or make your own crème fraiche by whisking together 1 cup local cream with 1 cup local sour cream, then letting it sit, covered, at room temperature until it thickens, 12 to 24 hours. (If you like, season with sugar and vanilla extras or a touch of berry liquor.) Serves about 6
16 to 18-ounces summer berries, solo or mixed**
1/2 cup sugar
butter for greasing the bowl
10 to 12 slices firm textured thin white bread, crusts removed
Whipped cream, ice cream or crème fraiche
l. Combine the berries and sugar in a small pot. Heat over a medium heat, stirring occasionally, but very gently, 3 or 4 times, just until the sugar is melted, about 2 minutes. Remove from heat. (If you are using blueberries in combination with other berries, add them first with the sugar. When they start to burst, add the other berries, such as blackberries or raspberries, and stir gently until the they are shiny, about 1 minute.)
2. Butter a 3-cup bowl. Line the bowl with the bread, overlapping generously, so that none of the bowl shows through at all. Reserve the remaining bread for the top.
3. When the berries have cooled, pour off up to 3 tablespoons of the syrup into a small bowl and chill. (You will use this to add to any area of bread that isn't soaked with berry juice.) Pour the rest of the berries and juice into the bowl. Top with remaining bread, overlapping it generously, so that you don't see any of the berries below and crimping the sides in to conform with the shape of the bowl.
4. Place a plate, very slightly smaller than the diameter of the bowl, directly over the top bread slices. Weight this down with 2 cans or whatever heavy items you have on hand. Refrigerate overnight.
5. To serve: Place a plate on the bottom of the bowl, then invert bowl and plate. Remove the bowl. (If it doesn't pop right out, run a knife around the pudding, invert, pound the bowl and let gravity do its work.) Cut the into wedges and serve cold with local ice cream, whipped cream or crème fraiche.
**Any berry is good in this recipe, but my favorite combo is half raspberries and half blueberries — colorful, high in flavor, low on pits.

Summer Pudding?
Summer Pudding was invented in the 16th century England as a kind of "health food" alternative to typically rich suet pudding. I included it in The Secret Garden Cookbook, because it was easy to imagine Colin, the Victorian kid-invalid, fed tangy-sweet slices to restore his health.