The 1st Annual Wareham Oyster Festival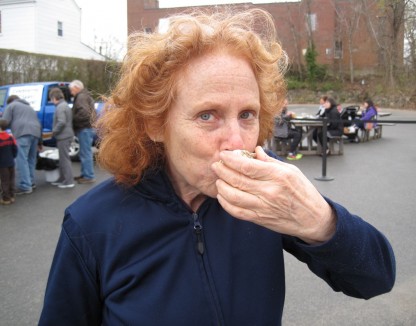 Above: Me, sucking down a perfect oyster.
Below: Big Rock farmed oysters and wild clams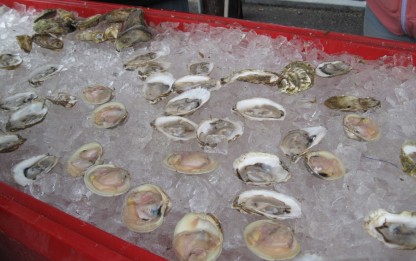 For more about the oyster festival and oystering in general, see this post here.
Oyster recipe here.
Great oysters, but you'd have to a be an oyster nut to spend yesterday as we did and love it.
And we did.
We began our day with a 2-1/4 hour drive to the small town of Wareham MA — gateway to Cape Cod. Fueled by our in-the-car rock 'n roll mix, but shivering in the miserably damp 42 degrees, we chose to look on the bright side: the rain had stopped.
After parking, we marched past the sweet craft vendors and non-profit tabling tents to the oyster parking lot, which featured two oyster farmers and their employees, shucking. Both were good, but the Big Rock Oysters ROCKED our world. So we sucked down 2 dozen, mostly standing up with a number of other food fanatics. (They get me high, how about you?)
Big Rock Oyster owner-oyster farmer Aaron Brochu, who I interviewed in an earlier post here, tells no lies. His oyster farm produces shockingly clean tasting oysters with just the perfect brininess. (Even better or at least equal to Wellfleet oysters.) But sadly we had to get in from the cold.
So, we walked past the kinda hot band and fragrant seafood bisque tent, which was almost impossible to resist, continuing on our way to the edge of tiny downtown Wareham. Really, it's kind of Richard Russo setting by the sea. I mean that affectionately, as he does, meaning it's small working class town peopled with characters that likely have known each other for years, each with an interconnected story.
We arrived, chilled, at Narrow's Crossing Restaurant, which is right on the water. It's more of a bar really, so we got Americana'd up, sitting two big sports-playing TVs, welcomed by sweet-as-hell waitress. We shared a plate of standard fries with superb fried oysters — hot and crunchy on the outside, soft with a taste of the sea inside. Wow.
Then home. A perfect outing, driving aside.