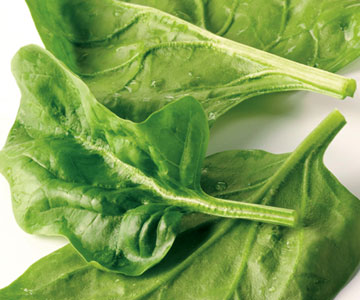 Joy. Our local farmers market finally opened last Saturday in the old train station in Great Barrington, Massachusetts. My first market lunch?  A classic spinach salad with a twist — roasted bacon, onions and shiitakes with a curry dressing in a wrap. The recipe's from my  book, Wrap it Up. Makes 4 wraps.
Note: North country markets are opening all over the county. Find one near you using the link below.
8 slices bacon
About 20 shiitake mushrooms, stems removed
2 medium onions, sliced
2 tablespoons cider vinegar
2 teaspoons curry powder
generous pinch salt
About 10 ounces washed spinach, stems removed
4 large burrito size tortillas
l. Preheat oven to 400 degrees. Lay the bacon on a baking sheet with the shiitake caps and onions on top. Roast for 5 minutes, then toss with tongs.  Continue roasting, until the bacon is cooked, another 5-7 minutes. Remove from the oven. (Locally cured natural bacon can take a lot less time, so trust your eyes and remove when it's done.)
2. While the bacon and mushrooms are roasting, Whisk together the vinegar and curry in a large bowl.
3. Using tongs, remove the bacon, mushrooms, and onions from the baking sheet, leaving the fat behind. Add them to the bowl with the curry mixture. Add spinach and toss well.
4. To Assemble: Heat tortillas briefly in a directly over a gas flame or in a very hot skillet, until hot and pliable, turning them once with tongs, about 15-20 seconds each. Pile l/4 of the salad onto each warm tortilla. Fold in the sides and then roll firmly to compress the fluffy spinach leaves. Cut each half on the bias, if desired.
Note: To store or transport, wrap in wax paper or foil. These hold for about 4 hours if well wrapped.
More local food goodies
Find a Farmers Market near you.

Berkshire Farmers Markets
Note that there is a second farmers market in Great Barrington at the Nutrition Center on West Street on Wednesdays.
Local vs. Organic
The most common question I'm asked when is about difference between and viability of local vs. organic. Here's my answer, excerpted from my book, The Locavore Way.
Local Doritos?
It's America. So now that everyone's on the "buy local food" wagon, it's time for the large corporations like Frito-Lay and Hellman's to use it in their marketing. I dare to be obvious when I say: think and read labels before you succomb to this trickery.
Welcome
After the loss of the last shiitake farm in the county, Blue Moon Shrooms, I was thrilled to see a new vendor at the Great Barrington Farmers Market — Doreen Zehr of Zehr and Sons' Mushroom Farm from nearby  Ghent, New York. Welcome!