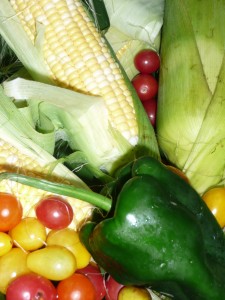 The browned cheese on the top and soft cornmeal on the bottom sandwich a custard studded with corn. Use an 8 inch square pan for a creamy texture or a larger pan for a firmer result. The accompanying salsa is also a favorite with chips (so double or triple it, if you like.) It leaves the canned stuff in the dust!  (From my first book, now out of print, One Pot Vegetarian Dishes) Serves 4 entrees with salad or 6 side servings
The Pudding
1/2 cup cornmeal, preferably stone ground and local
¼ cup shallots (or onions), chopped, whatever is local
1-1/2 teaspoons baking powder
l tablespoon sugar
1/4 teaspoon cayenne
1 teaspoon dry mustard
1 pinch dried oregano or ¾ teaspoons fresh
2 tablespoons butter, local if possible
2 cups local milk
1-1/2 cups fresh local corn kernels
3 local eggs
1/2 cup local cheddar or Monterey jack
The Tomato Salsa
2 large tomatoes, chopped
1-1-2 tablespoons chopped shallots or onions
1 tablespoon chopped cilantro
1 garlic clove, minced
l  to 2 jalapenos, to taste, seeded and minced, or 1/8 teaspoon cayenne
pinch salt
l. Preheat oven to 350˚F. Butter an 8 by 8 inch or gratin dish.
2. Combine dry ingredients: In a large bowl combine the cornmeal, shallots, baking powder, sugar, salt, cayenne, mustard, and oregano.
3.Combine wet ingredients: In a pot, heat the butter until mostly melted, about l minute. Add the milk, and heat until the milk is hot and the butter completely melted, about 2 minutes.
4. Mix wet and dry ingredients: Gradually pour into the cornmeal mixture, whisking to remove lumps. Stir in the corn, egg, and remaining tablespoon of cilantro.
5. Pour into the baking pan and bake until the top is starting to firm, about 30 minutes. Sprinkle the cheddar on top. Turn the oven to 375˚F, and bake until the pudding is set, about 15 minutes.
6. Serve: Accompany with the salsa, which should be made while the pudding is cooking by simply mixing the ingredients in a bowl.