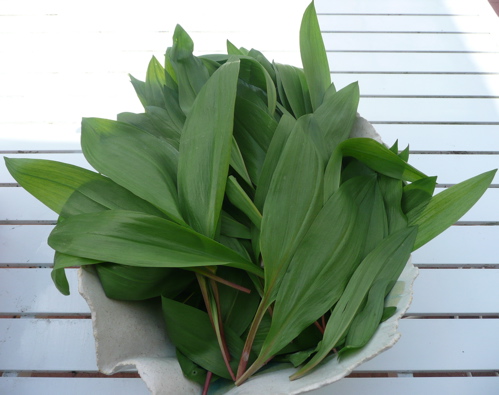 Ramp Pesto
I bumped into two fellow foragers gathering ramps two miles from my house. Even from my car, I could see the woods were lousy with ramps as well as the red flowers topping endangered trillium. I scissored a large bowlful of ramp leaves, leaving their roots to regenerate next year's crop, but also because I prefer the greens solo in ramp pesto.
A tad spicy and bright green with a slight edge of the wild, ramp pesto has become a forager's classic. It's extremely versatile, and freezes well in ice cube trays for later use, which is a good thing, because I'm just out of last season's tomatillo salsa. 
Tips: If you can't forage for ramps, many early farmers markets and hi-brow produce stores sell them. If you can, but live in an where there are ticks, take a shower and throw your clothes in the wash after your harvest. Lyme disease isn't fun, but ramps are worth a walk in the woods. No ramps near you?  Some early farmers markets and high-brow produce departments sell them.
Makes about 2-1/4 cups
2 handfuls local nuts, walnuts or pecans halves or blanched almonds
2-1/2 ounces Parmesan or similar cheese, local if you can get it
2 very generous handfuls of ramp leaves (and some bulbs if you wish)
About 1/3 cup of olive oil
About 1/4 teaspoons kosher or sea salt, or to taste
1-Toast the nuts in a dry skillet, over medium heat, shaking the pan frequently, until lightly aromatic. (Bend over them and take a whiff. They should smell toasted.) Don't go too far, as nuts burn easily. Pulse in a food processor until well chopped but not blended. Set aside.
2-Throw the cheese into the food processor. Pulse until it is finely chopped. (If the cheese is already grated, skip this step.) Add to the nuts.
3-Puree the leaves together with the oil, stopping and scraping down the bowl as necessary to combine. (Work in two batches if you have a small food processor.) Add to the bowl and stir to combine with the salt.
Note: If you don't have a food processor,  prepare by blending the chopped and grated ingredients in a mortar and pestle.

***

How do I identify ramps in the wild?
Ramps, which are wild leeks, are easy to identify. Look for them in mixed  hardwood forests. The root is scallion-like bulb, topped with two broad green leaves that may be slightly purplish at their base. Before harvesting, crush them to make sure they omit an oniony smell. They often, but not always, grow near Trout Lilies, Blue Cohosh, Dutchman's Breeches or Squirrel Corn.
How do you use this ramp pesto?
You are only limited by your imagination, but here are some ideas. Add a dollop to a vegetable or potato based soup. Spread on a sandwich or wrap. Toss to taste on warm pasta, adding a little water, oil or melted butter, as needed to thin it. Drizzle the thinned pesto (or spread it) on grilled meat, fish, chicken or vegetables. Stir a little into a local goat fresh cheese or dairy-based dip. Spread on toasted French bread rounds then top with sautéed shiitakes….
What else can you do with ramps?
If you pull them up by their roots, they're great with a touch of olive oil and a pinch of salt, either wokked up or covered with foil and smoked on the grill. Chef Matthew Schweizer, at Haven, in Lenox, Massachusetts, pickles them, which I'm sure is super in sandwiches. The leaves are lovely slivered into omelets or risotto.I love them layered into Pommes Anna, a rich potato dish, but that's for another post.
My old pal, Naomi Alson — acupuncturist and expert in both Chinese and Western herbs — serves a Vichyssoise, using the ramps instead of cultivated leeks. (Cook the bulbs with the potatoes, then add the chopped leaves towards the end of cooking.) Naomi also conducts eye-opening nature walks to identify edible and medicinal plants in the wild. So, if you live in the Berkshires, grab a group of 2 or more and use her! (naomifalson@yahoo.com)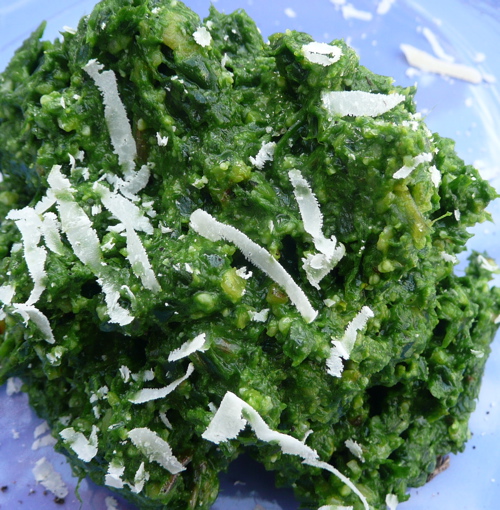 Ramp Pesto (ramps wild and with roots below)
Hot week for sustainability talk in my neck of the woods
On Monday, I got to hear from Cheryl King Fischer, Executive Director of the terrific New England Grassroots Environment Fund about the ground-breaking work being done in Hardwick, Vermont to develop a vigorous local food system model. (The Town that Food Saved)
Tuesday, The Darrow School gave a Sustainabilty Symposium, where classes were held in topics ranging from local food (me) to radical simplicity (Jim Merkel). Students were empowered to consider how sustainable work that resonated with them could fit into a better future. Great work Darrow!
And last but not least, on Wednesday, Josh Viertel, president of Slow Food USA, gave a talk at Williams about farm to school work and held a tasty Slow Food Western Massachusetts powwow at The Nutrition Center in Great Barrington, where they also have a Wednesday farmers market all summer. At the meeting, members took a look at the direction of Slow Food USA as well as the local food system here in the Berkshires.
On the calendar?
Talk and signing on April 29, 7 PM at Haston Free Public Library in North Brookfield. Part of a statewide community reading initiative, North Brookfield's is titled: READ!, GROW!, EAT! – a celebration of Local Food, Farms and Gardens.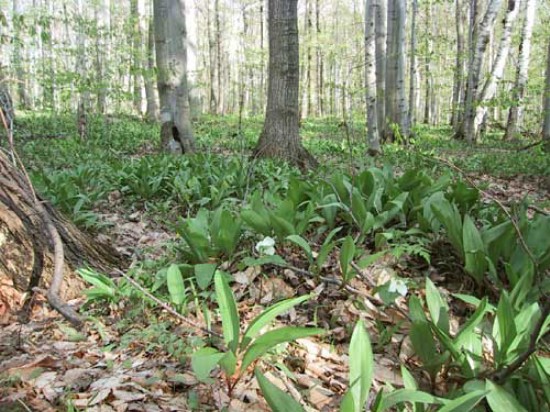 Ramps in the wild Please don't ever over harvest!
We need to leave some for the next generation.