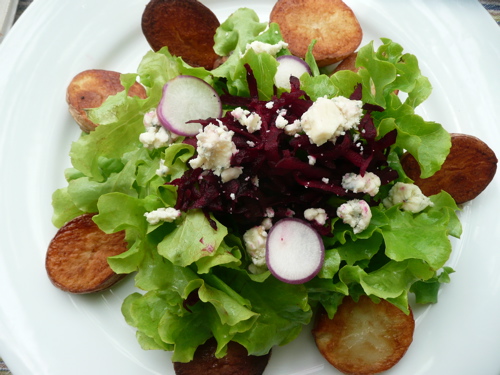 One early summer variation with beets, radishes and feta (or blue cheese). You could also add arugula, chives, and numerous other goodies. Fresh goat cheese could be spread on a toasted baguette if you prefer.

Many dishes in this blog are what I call open recipes, because they're open-ended, flexible and forgiving. Add a little more or less of this or that — always using the best of nature's local bounty — and they still taste fabulous.
Shop your farmers market, farm stand, or even supermarket, by asking what's local. Then take this recipe's 3 simple steps, which will liberate you to create endless variations with fresh seasonal produce and local cheese, using contrasting shapes, colors and flavors.
I especially enjoy this recipe's last minute preparation. First, place 2 plates stove-side, topped with seasonal greens, colorful vegetables and a sprinkle of local cheese. Then, pan roast potatoes and add them, warm,to the salad. Finally, assemble a simple warm dressing right in the pan. Drizzle it over the salad and you've got a meal in one. If you're serving a large crowd, use a platter. That's it!
The ingredients? If potatoes aren't quite ready in your neck of the woods, fear not. Local greens, veggies and cheese abound, and potatoes will arrive soon enough. Just use what's fresh as it comes into its season, including: fresh peas, raw or cooked;, sugar snaps, stacked and slivered; sliced or julienne carrots; shredded red or green cabbage; wedged or diced baby turnips; grated raw or roasted baby beets; any kind of tomato cut any way you like; sweet pepper strips; raw or briefly cooked string beans; berries; sliced apples or pears; and even protein, like boiled and quartered farm fresh eggs. Cheeses can be crumbly, grated or if they're soft, spread on a toasted baguette or quartered whole grain bread. Serves 2 large dinner salads
2 medium or 4 small red, fingerling potatoes or your favorite thin skinned market potato
About 3 tablespoons olive oil
2 large handfuls of lettuce, your choice
1 cups seasonal vegetables (see above)*
1 tablespoon chopped chives, 2 scallions, sliced or 4 thin slices of red onion or any sweet onion, separated into rings
About 2 ounces of cheese, crumbled, diced, or grated (spread soft cheese on a toasted baguette slice)
Salt, preferably kosher or sea
1 or 2 garlic cloves, coarsely chopped
About 1 tablespoon red wine vinegar
Freshly ground black pepper
1. Cut each potato into bite-sized pieces. Preheat a large cast iron skillet or any heavy skillet over medium-high heat for 2 to 3 minutes. Add 1 tablespoon of the oil. (It will start to smoke.) Carefully and quickly place the potatoes in the pan, cut sides down. Sear until nicely brown, 5 to 7 minutes, shaking the pan vigorously or turning the potatoes over with tongs, until fork tender, another 5 to 7 minutes.
2. While the potatoes are roasting, wash and dry the lettuce.Tear the lettuce into bite-sized pieces and divide them between 2 plates or shallow bowls. Top with whatever seasonal vegetables you like (*see ingredients above), then the chives, scallions or onions, followed by the cheese.
3. When the potatoes are fully cooked, salt them generously in the pan, then arrange them over the salads. Let the pan cool off the stove for a minute to prevent burning, then add the garlic. Return the pan to the stove and cook, stirring constantly, just until it starts to brown very lightly. Immediately whisk in the remaining oil, then add the vinegar to taste. Drizzle the dressing over the salads. Add pepper to taste.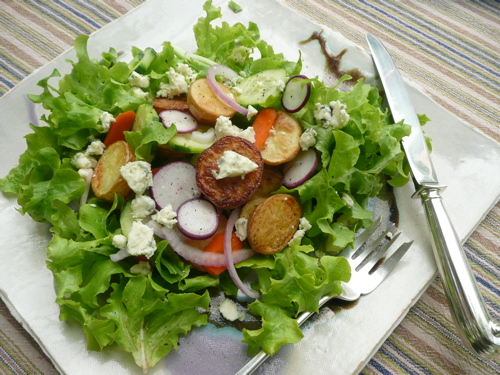 A second early summer variation with green leaf lettuce, blue cheese, carrots, radishes and cucumbers.  Don't forget the summer  with tomatoes, corn kernels, slivered basil and much more.  Anything goes!
A Few Tips for Farmers Market Shopping
Let your farmer be your teacher.
Your best lessons come from the farmers' market and its community, so look around you, watch or ask farm vendors (and shoppers). These observations will teach you how to select and prepare foods. And of course, your farm vendors have been asked about storage and preparation tips a thousand times, so they know the answers!
Shop by category instead of by ingredient. Freshly harvested produce appears and disappears as it goes in and out of season. Ingredients you expected to arrive may have fallen prey to nature — a heavy rain finishing off the berries or deer eating the butternut squash crop. Make these uncertainties an asset by adopting a new shopping style. Rather than looking for specific ingredients, shop in general categories. Put "salad" on your list rather than specific salad ingredients. Shop for the best ingredients available rather than specific items, selecting fruits or vegetables that are fine on their own or might also combine well. Shop for any grain, rice, or pasta, then pick out combination's of ingredients that could be thrown into any of these. You'll often find that nature makes sense; foods in season blend well together. Read recipes if you must, or just experiment!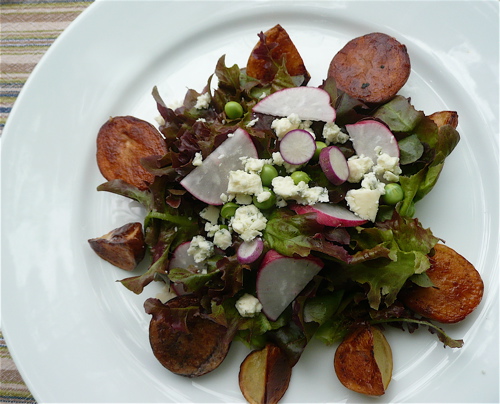 A third early summer variation with red leaf lettuce, peas, radishes and blue cheese. I could have added pea sprouts and sugar snaps too.
A Good Read
I just finished In Defense of Food: An Eater's Manifesto by Michael Pollan. The book examines the question of what to eat from the perspective of health. It's well-researched, giving readers a sense of context about the crazy world of nutrition that's clear and engaging. Read this well-argued manifesto that cuts straight to the chase with a maxim that is deceptively simple: Eat food, not too much, mostly plants. This directive well-followed leads us to embrace — no surprise — fresh local and sustainable foods!
The New England Small Farms Institute gives courses to help you decide if farming might be right for you. The aim is to help those thinking about small-scale commercial farming (farming as a business with intent to make a profit, rather than as a hobby or pastime), learn what it will take to start and manage a farm business, and decide whether that is something they really want to pursue. Recognizing that many "Explorers" will choose not to farm commercially, Exploring the Small Farm Dream also looks at other possibilities that can satisfy their interest in agriculture.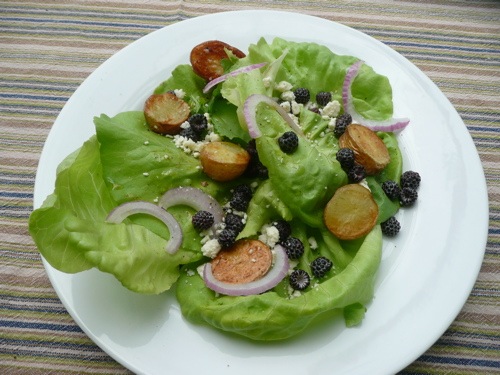 Final early summer variations with wild black caps (or any berry), feta and onion. You can also play with your greens here,using bitter greens to contrast with the sweet berries.