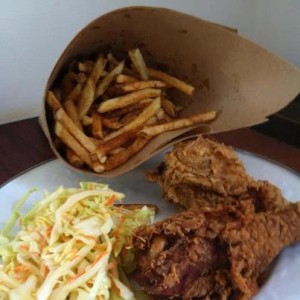 Jeremy Stanton's Meat Market, near me in Great Barrington, Massachusetts, brings the Berkshires up to date by showcasing the local food movement's latest push beyond produce to include local, humanely raised animals, bred for flavor rather than bulk.
Guiltlessly devour their meat sandwiches for lunch. And, don't miss the coolest chicken dinner in the Berkshires on Thursday nights. (It's the best kept secret too, because it's not even on their website.)
Their super crisp chicken is fried in bubbling lard outside the store in rustic kettles over a wood fire. It's accompanied with the best fries imaginable, long skinny and real, served in a giant paper cone.
Top that off with a salad of shockingly good cukes and August tomatoes. (Veggies vary by season.) Then, if you're not satisfied — and you will be —finish with baby donuts. Oh, those sugary balls of fried dough.
My husband and I savored our super outside on a teak table against a backdrop of the Berkshire hills. But you can sit indoors at the store, as well. The vibe is friendly and extremely relaxed. Gobble a whole meal or split one.
Spread the word.
What's the story with the chicken?
Jake, the market's butcher, says their 'chicken guy' is Nick Abair of Abair Farm in Brimfield.  Nick sources and processes free-range chickens at his small farm and others near him in the Berkshires and Pioneer Valley. The Meat Market is proud to support him his emerging business and farm.