A Mexican Feast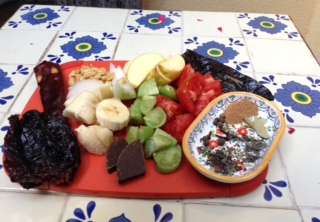 Fixings for one of many kinds of mole. (Recipe here.)  This recipe, which I prepared in Mexico, was assembled using a combination of market mole paste and fresh ingredients. In class we'll easily make it all from scratch.
Different Drummer Cooking School Northampton
Monday, May 19, 2014 6:15-8:45 PM
Sign up here
Fee: $69 including full meal
You'll love my take on the flavors of Mexico featured in the full class meal. Inspired by my frequent travels south of the border, I'll be sharing dishes you'll want to make again and again — from Shrimp Quesadillas to the king of Mexican sauces, mole.
APPETIZER
Fresh Tomatillo Salsa
Seasonal tomatillos make a classic Mexican green sauce that will become a household staple, served with chips.
Shrimp Quesadillas with Cilantro Pesto
Cilantro, pecans, cheese, shrimp, chilies and more in tortillas, baked or sautéed until crisp.
MAIN COURSE
Chicken Mole with Mexicali Rice
Traditional mole sauce has many variations and a wonderfully complex flavor with ingredients ranging from chili to chocolate.
SALAD
Authentic Caesar Salad
Made right in the bowl, this Caesar will blow away the Caesar dressings you've been savoring.
DESSERT
Chocolate Smooches
Learn to make your own tin of imported chocolate treats, spiked with a touch of Mexico.