For those who haven't hit a killing frost already, it's time to use those herbs! Here are some fabulous ways to savor them over the long winter. (Excerpts from my book, The Locavore Way.)
Tips: Scan below to blue for general directions on preparing and freezing herbs.
Salt Drying Sage or Rosemary
About 12 years ago, I started storing rosemary and sage separately in salt. Just break the branches up, or if you prefer, remove the leaves from their stems, and cover completely in kosher salt in a glass jar. The salt will draw out the moisture, so you can use the herb — or, better yet, the herb-salt — for seasoning everything from roasted winter vegetables to chicken.
Chimichurri Sauce
This sauce works best in a blender. Combine 1 cup packed parsley leaves, 1 minced garlic clove, and 1 very thinly sliced sweet onion. With the motor running, pour ¼ cup olive oil and up to ¼ cup water through the top hole. Add 1 tablespoon lime juice, 1 teaspoon white vinegar, and a generous pinch of sugar. Blend until smooth. Season with salt and freshly ground black pepper to taste.
Serving suggestions: Drizzle over fish, any kind of meat, or vegetables.
Traditional Pesto with Lots of Variations

Blend until smooth or almost smooth: 3 cups loosely packed basil leaves, 2 chopped garlic cloves, about ½ cup olive oil (or oil and softened butter combined), and 2 heaping tablespoons of nuts (such as pine nuts, walnuts, or pecans). When ready to serve, mix in 2 tablespoons to ¼ cup grated or shredded hard grating or Parmesan cheese. Mix just to combine.
Pesto variations: Substitute parsley leaves and stems for the basil, or use the parsley in combination with the basil, blending them together in the food processor. Or add a touch of stronger herbs, such as rosemary or sage to taste, to a parsley pesto. You can also replace the herbs above with cilantro (feel free to use the stems), sorrel, arugula, or mint, adding a little chives, if you have them. Try local soft cheeses, such as fresh goat or ricotta, solo or in combination with a hard grating cheese. Or omit the cheese and add fresh lemon juice or local hot chilies. (I like a cilantro pesto with pecans, local cheese and hot chilies.)
Serving suggestions: Spread any kind of the pestos above on sandwiches or wraps; thin with a little cooking water and toss on pasta to coat; toss with roasted vegetables; stir into mayo, butter, or sauces (without the cheese); add to stuffings; or omit nuts and add to soup.
Italian Parsley Caper Sauce
Make parsley pesto, as above, blending your pesto with parsley instead of basil as described, but don't add the cheese or nuts. Blend in capers and lemon juice to taste. Optional: Add touch of Dijon mustard or anchovy paste.
Serving suggestions: Italian Parsley Caper Sauce fabulous when served with fish, chicken, grilled eggplant, or mushrooms.
Although the main local ingredients here are herbs, don't forget to seek out other local goodies — garlic, nuts, and cheese — freely substituting what's available. I'm no fundamentalist, so although it isn't produced near me, I won't give up my olive oil. But if you prefer, use local butter if you are making a warm dish, or combine melted butter and local oil.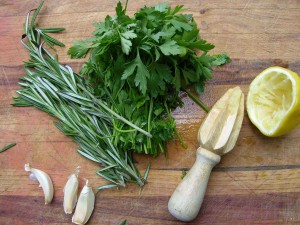 From the fabulous Berkshire Food Journal
Herb Butter or Oil
Mix softened, unsweetened butter with chopped herbs to taste, adding a touch of salt, if you like. Roll in wax paper, twist the ends, mark, and freeze. For herb-scented oil, blend herbs with a flavorless oil or light olive oil, strain through a fine strainer, then add salt to taste.
Serving suggestions: Serve butter in thin slices, or melt it and drizzle on fish, chicken, meat, or vegetables.
Herb Persillade
Blend or chop together 2 cups parsley,cilantro, chervil, or dill with 1⁄3 cup olive oil and 2 garlic cloves.
Variation: Add a touch of grated lemon zest.
Serving suggestion: Sprinkle over or toss with any savory dish.
Directions for Preparing and Freezing Herb Purees



Wash and dry the herbs well, but be gentle with their tender leaves so as not to bruise them. The texture of these green concoctions here is up to you; they can be smooth or slightly coarse. Chop the herbs by hand, blend them with a food processor, or mash them with a mortar and pestle. Freeze them in containers or in plastic bags. For individual servings, spoon them into ice cube trays. When frozen, pop them out and store them in plastic containers in your freezer. (I love this approach, because I can throw a frozen cube into a warm soup or defrost just enough to spread on a sandwich.)
One Los Angeles chef decided to take organic and local to another level by having customers bring fruits and vegetables from their backyards to put in the restaurant's dishes. The county intervened, but the restaurant figured out a way to get its customers involved with the menu again.
Apparently, Americans isn't listening to pleas to eat their vegetables.  And you know something's wrong when "baby" carrots are marketed with the slogan,"Eat them like junk food"! Blog readers, we're in the VAST minority, and it looks like a tough road ahead if we keep moving in this direction. This New York Times article is a good one, but I don't agree with the idea that fresh produce is expensive. And even if I'm wrong, and as ever I think I'm on target here, vegetables are cheap in the long run!