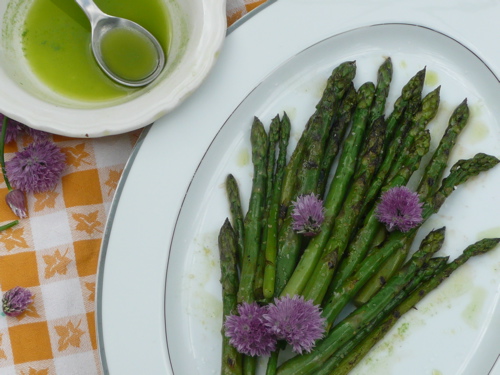 Grilling brings out the woodsy flavor in asparagus. This recipe makes extra chive oil, which is tasty on other grilled vegetables and fish too.
Every spring I plan to plant asparagus, but never do. They take years to produce well and I'm impatient, planting my nine 4 by 4 beds with faster yielding crop. But my neighbor Julie Michaels is both longsighted and generous. This year she treated us to her first asparagus harvest, fresh-cut from her garden, and part of a heavenly locavore meal that included tangy Sorrel Pesto Pasta and Warm Rhubarb Tart.  Since then, it's asparagus 24/7 until the season's over. The best way to remain a happy locavore it to glut yourself on each season's crop, then wait a year until it comes in again. Serves 6-8
Variations: For a milder smoky flavor, steam the asparagus very lightly before grilling. If you like, do this ahead of time and plunge them into ice water before drying, tossing in oil, then grilling briefly on each side. 
2 pounds asparagus
1/2 cup olive oil (or half olive oil, half flavorless oil)
A good handful of chives (whole)
1/2 clove garlic (optional)
Salt to taste
Lemon wedge
2 tablespoons chopped chives
1-Blend the olive oil, whole chives, garlic, if you are using it, and 1 teaspoon salt in a food processor. Strain. (You will have more than your need so some can be reserved for later use.)
2-Snap each asparagus stalk to remove the woody end. (If they are already 6 inches or less, they're probably already snapped.) Toss the asparagus just to barely coat with the chive oil.
3-Heat your grill to medium high. You can use a charcoal, gas grill outside or a grill pan inside. (If you are using an outdoor grill, use a cooking grate to prevent the asparagus from falling through.)
4-Grill the asparagus over medium heat for about 5 minutes on each side, turning once with tongs, or until they are nicely browned but not burned. Arrange on a platter. Squeeze lightly with lemon juice from wedge, then drizzle with a little more chive oil. Taste. If they need salt, sprinkle with salt. Sprinkle with chives. Garnish with chive blossoms, if you wish.
Where can you find asparagus?
Everywhere. If you don't have a generous friend with an asparagus bed, most farm stands and farmers market are still selling local asparagus. So nab 'em while they're still in. I've found mine at Taft Farms near me. And I picked up a few bunches at a Vermont farm stand on my way home from a cheesy weekend in Vermont. (See below.)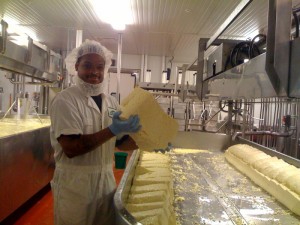 Making cheddar at Grafton Village Cheese Company's Factory
Curd cut into slabs & turned several times, a process known as "cheddaring"
Say Cheese Please
My husband, Tommy, and I spend a very cheesy weekend up in picture perfect Grafton, home of the Grafton Village Cheese Company, where they make lots of good aged cheddar. It's produced using the raw Jersey milk from 29 southern Vermont farms, who get a premium for their product. Good for the farms, good for the cheese.
In Grafton, their cheddar goes into everything — Samosas with Cheddar and Apples, Ploughman's Platter with Grafton Cheddar, Shepard's Pie with Grafton Cheddar Mashed Parsnips, four kinds of Flatbread Pizzas with Grafton Cheddar, including Red Sox Nation with Sun-dried Tomatoes, accompaniments of Grafton Cheddar Croutons and Crisps, Local Beef or Sliders with, guess what?
You haven't heard the last of local cheddar or of Grafton's event. More next week…..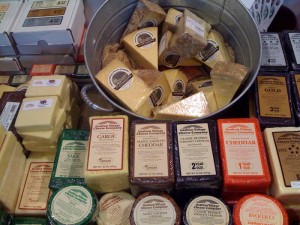 Look for Kick-offs of the New Movie, Fresh
Fresh is a new documentary about the food system. You may find it at a kick-off near you or buy a DVD on-line and invite folks in to view it. I haven't seen it yet. Let me know what you think. People seem to be raving….