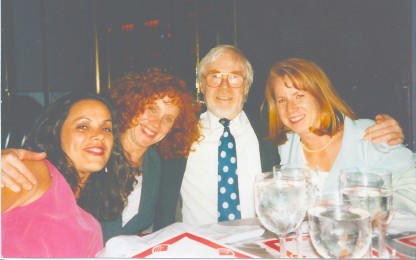 My father adored family feasts. And every large meal ended with: "We need a sweet to shout finis!"
So on this Thanksgiving, the first since his he died, he was with us in spirit — cracking snappy, if harsh, jokes, mooning over my brother-in-law's wine selection, criticizing my kale salad and "to shout finis," savoring my butternut pie.
Thanks Dad for your sharp wit and warmth, as well as your food fanaticism, now mine.
Note: The picture is of my dad in his healthy days, on this 70th birthday, with my sisters, almost 20 years ago at The Rainbow Room in Manhattan. From the left: Ellie, the baby, me, the oldest, dad, and our middle sister, Joanna.