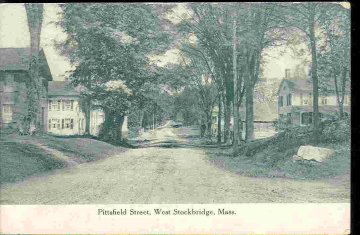 An Oral History
West Stockbridge, Massachusetts
(Pictures are of downtown West Stockbridge)

This conversation that I had with my neighbor Edna Garnet, now deceased, is a reminder that, until recent history, many country folks were nearly self-sufficient. They raised their own food, ate what was in season, storing hearty root vegetables and putting up garden produce to sustain them during long winters like this one.

My name is Edna Garnet. I was born in the house across the street in l912. We had a l96 acre dairy farm there, with twenty or thirty milkers come spring for about a dozen or so stanchions. Most of our food came from the farm. We made our own butter and buttermilk. For meat and eggs we raised chickens, pigs, and killed a young cow once a year. This was a common practice, and my Father was the town meat inspector to ensure people slaughtered their meat properly. In the winter we tapped our trees for maple syrup, boiling it outside, so the steam wouldn't peel the wallpaper off right off our walls.
During the summer we grew our vegetables for the year, then put them up. I remember that after the growing season our cellar was always filled with food. We had a piano box down there that was filled with potatoes and sometimes apples, and shelves with boxes, open on the top, brimming with root vegetables.Additional shelves were stocked with all the canned goods we'd preserved: pickled cucumbers and beets, sauerkraut, corn, tomatoes, string beans, chili sauce, peas, anything that grew. A few things we left in the ground, because they froze well enough to dig up and eat, primarily turnips and parsnips, and maybe some others.
There was a shelf under the chimney base in the basement where we kept additional food, I think because it was a little warmer. Above, in the living room, we had a trap door we used as a chute for wood ashes for the garden. I remember playing with the door when we pretended to escape the Indians.
We put up a lot of produce, because it had to last through the winter, although we did purchase other items from the store. West Stockbridge had more stores then, before the fire, and Callahan's delivered weekly. A man named Ben Bissel brought over our supplies, and sometimes offered a banana or hot dog as a treat for us kids. (I distinctly remember those hanging hot dogs.) But mostly he brought staples like flour and sugar. I remember spaghetti in a long box in a compressed U shape, and elbow macaroni, that my Mother served with cheese. I think he sometimes delivered a large wedge of cheese, perhaps cheddar now and again, although we made our own fresh cottage cheese.
Like everyone, we kept our daily perishables fresh in an icebox in our kitchen. The icehouse, a small building by the house, stored our ice all year. In the winter, the men would go down and pick out chunks from the pond, then cover them with sawdust to store. As needed, chunks were moved to the icebox in the house to keep our food cold. By the summer, the ice house wasn't as full and the blocks of ice formed stairs that I could climb to the top, where there was a window. I seem to remember stepping up to the top and reaching outside the window to pick a pear. Or maybe I was just looking at the pear blossoms.
Daily, my mother cooked for seven: herself, my father, my two brothers, myself and my sister, and a hired man. She made 3 or 4 loaves at a time in a bread mixer. A simple useful device, it was a large container with an S shaped piece inside, attached to a cover and a crank to knead the dough. To keep the dough warm as it rose, the bread machine sat on top of the stove. Our stove was wood fired, with a firebox on one side and a reservoir of 3 or 4 gallons of hot water on the other. (That was our hot water, period.)
In the morning the adults ate a large classic farm breakfast, hearty enough to sustain them through a long and physical day's work — pancakes, meat, bacon, eggs, etc. My siblings and I ate lighter fare, usually cooked cereal: cornmeal mush with milk and sugar or cream, oatmeal; or a "Ralston", made from wheat. We each took a sandwich to school. Either hot cocoa or homemade soup was provided by the school and was kept warm atop a wood stove there. After school I sometimes taught cooking, canning, and sewing with the 4H club.
For dinner I mostly remember the weekend meals. On Saturday we often had Boston Baked Beans with Brown Bread baked round in a coffee can, and fresh vegetables in the summer, put up the rest of the year. Every Sunday we had a chicken dinner with homemade ice cream. We called it Chicken Pot Pie. It isn't a what is called pot pie now, but a chicken stewed chicken "fricassee" with large fistfuls of dumplings cooked right into the gravy.