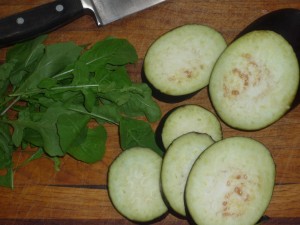 Before the killing frost, make sure to pick up some readily available eggplant and arugula. I bought my eggplant at the biggest organic farm stand in New York, McEnroe's in Millerton. It's firm to the touch with shiny purple skin. The arugula is from my back garden, now a little
leggy and spicy and but full of perk.
Makes 4 to 6 servings
1/8-teaspoon anise seed
2 tablespoons soy sauce
1 minced garlic clove
1 tablespoon sugar
1 tablespoon rice vinegar
1 teaspoon sesame oil
1/2 cup mayonnaise (homemade or store-bought)
About 1-1/2 pounds eggplant, 1 large or 2 small eggplants, cut into
1/2 inch slices
Salt, kosher
2-3 tablespoons vegetable oil
2 small baguettes or 4 -6 crusty rolls
4 scallions, chopped
1 bunch arugula, stems removed
1. Add the anise seed, soy, garlic, sugar and vinegar to a skillet.Cook over medium heat, stirring continuously, until the liquid is reduced to half, 1 to 2 minutes. Remove from the heat. Let cook a few minutes and stir into the mayonnaise until well combined.Set aside.
2. Sprinkle the eggplant slices evenly with about 1 teaspoon of salt.Let sit for 30 minutes to 3 hours. Dry well with a kitchen towel.
3. Brush a non-stick skillet (or a grill) with a thin layer of the oil. (If you are willing to use more oil, use a cast iron skillet.) Heat to medium high, until the oil is hot but not smoking. Cook eggplant, searing on both sides, until soft all the way through, about 4 minutes each side, adding extra oil and cooking it in batches if necessary. Set aside.
4. Split baguettes or rolls horizontally. Remove a little bread from the center of the top half in each. Equally spread the mayonnaise on one side of each baguette or roll. (It's strong so a little goes a long way.) Divide eggplant, then the scallions and arugula, evenly over half the bread. Top with the other half and press down. Slice as needed, into halves or quarters.