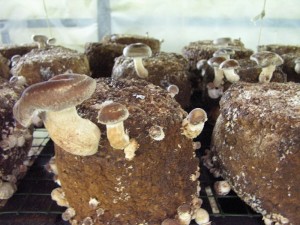 At Leslie Taft's shiitake farm in Housatonic before she moved to Maine
These nostalgic treats make a stress free Thanksgiving side, because they can assembled ahead, refrigerated, then cooked while the turkey is waiting to be carved. Local dried mushrooms, shallots and cheese abound. (Hawthorne Valley Farm makes what they call an Alpine Cheese with a touch of caraway.)  And, if you like, add a few regional dried cranberries to the mix. Makes 18 large stuffed mushrooms
9 dried shiitake mushrooms
18 very large cultivated mushrooms
3/4 cup bulgur
1/4 cup olive oil
1/3 cup chopped shallots
1 teaspoon fresh thyme leaves, or to taste
l-1/2 tablespoons chopped parsley
3/4 teaspoon salt or to taste
l/4-1/2 teaspoon ground pepper or to taste
1/3 cup grated hard cheese
4 lemon wedges, optional
1. Preheat oven to 425˚F. Place the bulgur in a medium bowl. Cover with boiling water and soak for 30 minutes. Drain through a fine sieve, pressing out any extra water. Return bulgur to the bowl.
2. Prepare the mushrooms: Cover the dried shiitakes with 1 cup boiling water in a small bowl. Let it stand until softened, 10-15 minutes. Cut off and discard their stems; chop the caps. Remove the stems from the large mushrooms and chop. Wipe the caps clean.
4. Heat 3 tablespoons of oil in a skillet over medium heat. Add the shallots, chopped mushroom stems, shiitakes and thyme leaves. Cook until mushrooms are tender, stirring occasionally, about 5 minutes. Add the mushroom mixture to the bulgur. Stir to combine with the remaining tablespoon of olive oil, parsley, salt, pepper and, if needed, extra thyme to taste. (Don't over salt, as the cheese will add salt.) Stuff the mushrooms very full, about 2 tablespoons each.
5. Arrange the mushrooms on a baking dish large enough to hold them tightly in one layer. When you are ready to bake them, add about 2 tablespoons of boiling water to the bottom of the dish. Cover tightly with foil. Bake until mushrooms are soft all the way through, about 20 minutes.
6. Remove the mushrooms and bring the oven to a broil. Sprinkle cheese over the tops of the mushrooms. Cook them close to the broiler until the cheese browns a little, about 2 to 3 minutes. (Watch closely!) Serve with lemon wedges, if you like.
**Want to skip the cheese? Mix breadcrumbs, preferably from fresh whole wheat bread, with a little oil or butter. Add salt and pepper to  taste, and even a little chopped nuts if you like. Broil as you did with the cheese, but a little further way from your heat source.