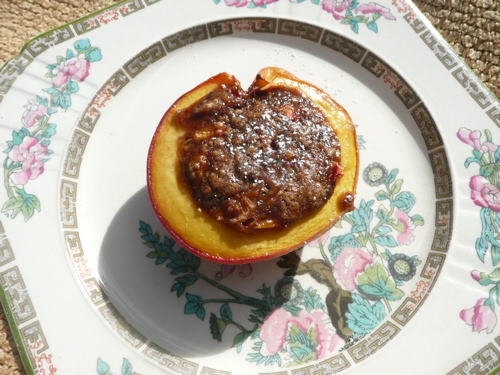 Local peaches or pears are in. Eat them out of hand until you can't stand it, as the season is short. Today I stuffed them with ginger cookies, almonds and chocolate. They barely made it to the fridge, but they're good warm or cold.
1 ounce ginger snap cookies (5 small, 4 large)
2 tablespoons sliced almonds
1 tablespoon dark chocolate chips or grated chocolate
1 tablespoon brandy or cognac
1 tablespoon sugar
1 egg yolk (small egg, if possible)
2 firm-ripe pears or peaches (cling free peaches*)
1 teaspoon butter, optional
1-Preheat the oven to 350 degrees.
2-Pulse cookies, almonds and chocolate in the food processor until they are crumb sized. (Don't over process. Better too large than too small.) Transfer to a small bowl and add the rum, sugar and egg yolk. Mix thoroughly.
3-For peaches, cut them in half and remove the pits. For pears, cut them in half lengthwise; scoop out the core with a spoon. Scoop out about a tablespoon or so the center of the peaches or pears to enlarge their cavities for the filling. Finely chop the scooped out flesh and add to the ginger-chocolate mixture. Spoon a little of the filling into each half. If you are using it, top each with chopped or thin shavings of the butter.
4- Place fruit in an baking dish, and bake for 45 minutes or until the filling firms up and forms a crust. Let cool. Transfer to a serving dish.
*Late season peaches are usually cling-free, meaning that you can cut around the pit and pull the two halves apart easily.
Today's personal produce rant
Eat produce for its flavor, not its caché. At least in principle, no one is opposed to biodiversity, but I have a pet peeve about the growing popularity of varieties that don't cut the mustard. (Especially when old favorites are forgotten.) Give me GREEN beans like meaty Roma varieties. Yellow beans are OK but mostly leave me cold because, like white asparagus, they miss the point — their green beany flavor.
Seedless watermelon, don't get me started — all sweet, no watermelon flavor. The same for supersweet corn, which isn't corny enough for my tastes. Instead savor heirloom varieties right after they're picked, but before the turn to starch. (Supersweet doesn't get starchy, because it's designed to get sweeter over time, but tastes like saccharrin.) And, while fashionable white peaches are excellent for their subtlety, where's their acidic bite? Gone flat. Yellow tomatoes have less acid, true, and some are extraordinary, I agree, but a good Brandywine screams, "I'm red, ripe and have swallowed the sun!
We've got a long road ahead of us, as big-agribusiness still rules the roost. But this excellent USDA is packed with good information tipping us in the right direction, including a September 14th  article, Scientists Agree: Toward Sustainable Agriculture Systems in the 21st Century. (Took you long enough!)
With oodles of resources, this website recognizes the importance of regional food systems with direct farm to consumer sales, and that's good news for us all. Direct  sales have increased from $551 million in 1997 to $1.2 billion in 2007, with Massachusetts leading the way. These kinds of sales, like those in CSAs, farm stands and farmers markets, are about relationships between people, not corporations, and that builds more humane communities. Direct sales also leave more dough in farmers' hands and fresher food on consumer' tables. They also boost local economies, because food dollars stay close home, rather than being shipped out to corporate headquarters. All good.