August Weekend Locavore Extravaganza!
Join me for an exciting Locavore Way Weekend Workshop, August 26-28, complete with intensive cooking class, fabulous food, tastings and a farm tour with lunch — all at the fabulous Kripalu Center in the Berkshires in Lenox, Massacusetts.  Feel free to contact me with questions.  It's going to be a blast, so sign up soon as space is limited.
What's up?
Adapting my Farm to School Cookbook
I just completed The Missouri Farm to School Cookbook, which was adapted from my MA Farm to School Cookbook. The book is an aid for food service professionals that trains them how to cook with fresh seasonal foods from local farms. (Scroll down this page to read more and to download this free book.)

Producing the Berkshire Botanical Garden's Harvest Festival
This year, I will be producing the Berkshire Botanical Garden's 77th Annual Harvest Festival, Oct 1-2 in Stockbridge, Massachusetts, where I will be adding a fabulous new farmers market and lots of local vendors.
Locavore Recipes for the Season
Access 100 of my seasonal recipes using farm fresh ingredients. Search by season, ingredients and more…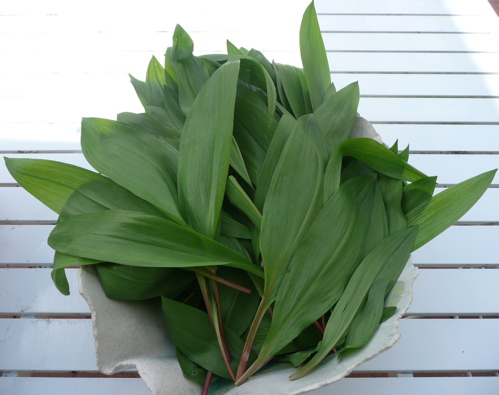 May ramps (wild leeks)
To get you hungry for my August class, here's the smoky chicken and corn from last summer…
(The chicken gets a fabulous Piquant Italian Herb Sauce.)