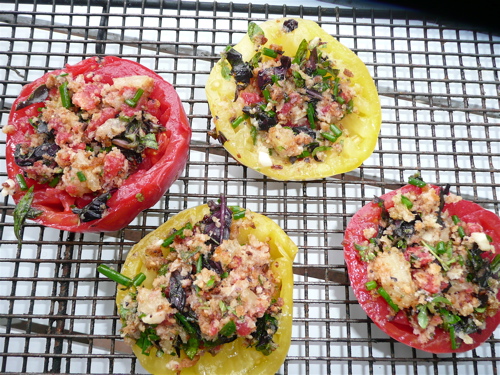 A classic, these are shockingly good when you use local tomatoes. The picture above shows them prepared with multi-colored heirloom tomatoes (from Moon in the Pond Farm) and basil (from my garden) before they're sprinkled with cheese and popped in the oven. You can use a local aged cheese, such as Hawthorne Valley Farm's sharp Alpine Cheese, or any sharp hard grating cheese, but local feta or goat cheese work well too. Makes 4 servings
4 fresh local tomatoes, ripe but not mushy
1/2 teaspoon kosher or sea salt
3/4 cup dried bread crumbs*
1/3 cup fresh basil, chopped finely
2 tablespoons olive oil
l large scallion, finely chopped, or 1 tablespoon chopped chives
2 garlic cloves, minced (or 4 freshly harvested cloves)
2 teaspoons fresh or l teaspoon dried thyme leaves
1/4 teaspoon freshly ground pepper
1/4 cup local grated or crumbled cheese (see headnote above)
l. Preheat oven to 425 degrees. Cut the tomatoes in half through their circumference. Using a spoon, remove most of the seeds from each tomato and discard. Scoop out about half of their pulp, then chop and set aside on a plate. Sprinkle the tomato cavities with about half the salt,then invert on a rack to drain.
2. In a medium bowl, combine the bread crumbs, basil, olive oil, scallions or chives, garlic, thyme, 1/4 teaspoon salt and pepper. Tip the plate with the chopped tomatoes and spoon off most of their liquid. Add the chopped tomatoes to the mixture. Divide equally among the tomato cavities. Sprinkle each with some of the cheese.
3. Place the tomatoes in a baking dish. Bake until tender, but not falling apart, about 10 minutes.
*Store-bought bread crumbs work fine for this recipe. But, you can make your own by using using stale or toasted white or whole grain bread, pulsed into crumbs in the food processor. (2-3 slices will make the 3/4 cup you need.)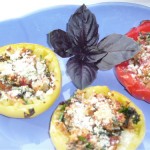 Food production=Climate Change?
Watch this 9 minute video to find out more.
A Good Read
Diet for a Hot Planet by Anna Lappé , daughter of Diet for a Small Planet's author, Frances Moore Lappé, is a timely inspection of the effects of our food choices on the environment and what we need to do to ensure that our diet is as healthy for the planet as it is for us. Borrow it from your library or buy it from your local independent book store.